Home Services Leads Most Popular Categories Among Prospective Franchisees
Home Services is the most popular category of franchises among potential franchise buyers, according to new data from Franchise Insights , with more investment inquiries in 2019 than any other category. Home Services topped Computer and Internet businesses as well as Food and Restaurant franchises to claim the top spot.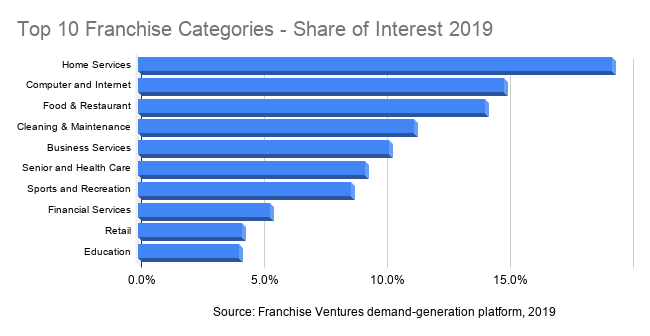 The Franchise Insights rankings are proprietary data drawn from the Franchise Ventures' demand-generation platform, which provides the largest flow of franchise-investment inquiries in the United States. 
Home Services generated 19.3% of last year's franchise-investment inquiries. It is a broad category that includes sub-categories like Home Improvement and Handyman services, Landscaping and Lawn care, Painting and Pest Control businesses, and Moving and Alarm services, among others. Home services franchises included 16.4% of the businesses listed across the Franchise Ventures platform.  

Computer and Internet businesses ranked No. 2, with 14.9% of the inquiries. These specialized technical franchises include both Computer Repair and Internet marketing services.

Food and Restaurant franchises ranked third, with 14.1% of the inquiries for the year. Everyone needs to eat, so this is a popular category for franchisees and franchisors alike – Food also accounts for 26.4% of the listing. The share of inquiries is not as high partly due to the higher investment level required for some full-service restaurants.

Cleaning and Maintenance generated 11.2% of franchise inquiries in 2019, and includes both consumer- and B2B business- services. Some franchises market to multiple categories, and might be listed in more than one category. 

Business Services rounds out the top 5 categories, with 10.2% of the franchise investment inquiries. This broad B2B categories includes subcategories like Advertising and Tax services, Print and Insurance services, and Business Consulting and Expense Reduction services, among others.
It is noteworthy that the most popular categories for franchise inquiries are not  necessarily those with the most abundant choices of franchises available. Investment level, size of market or other special requirements can affect relative popularity.
FranchiseVentures is the leading demand– and lead-generation platform for potential franchisees to thousands of growing franchise systems in the United States and Canada. Its franchise lead generation brands include Franchise.com, Franchise Solutions, Franchise Gator, Franchise Opportunities, Franchise For Sale, SmallBusinessStartup.com and BusinessBroker.net, and together they provide the largest aggregation of prospective franchise buyers in the U.S.
Interested in more insights from our proprietary data set? Subscribe to our email newsletter below, or follow us on LinkedIn.

Published on Thursday, January 30th, 2020.