Benchmarking Forecast Shows Franchise Fees Increasing in 2022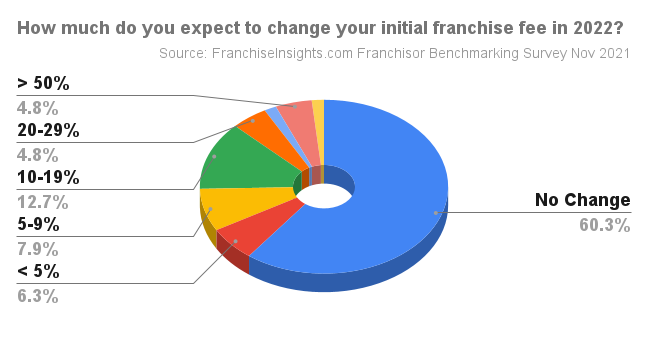 November 23, 2021 – While over 60% of active U.S. franchisors surveyed by FranchiseInsights.com reported no changes planned for their fees in 2022,. one-third (33.3%) increased fees in 2021, and 40% plan to increase initial franchise fees in 2022.
Three times as many franchises plan to increase their fees by more than 50% (4.8%) than reduce them (1.6%) in 2022. All of the franchises increasing at that level had 11-75 units in 2021, clearly in the high growth phase of franchise development. 
NOTE: Franchisors who participate in the survey will receive a copy of the in-depth benchmarking report with the 2022 forecast of franchise fees. To receive a free copy, active franchisors can participate in our quick and confidential poll. The full report includes data breakouts by
franchise category

system size

franchise fee level, and

growth goals. 
The next chart compares franchise fee changes in 2021 to plans for 2022 for easy comparison.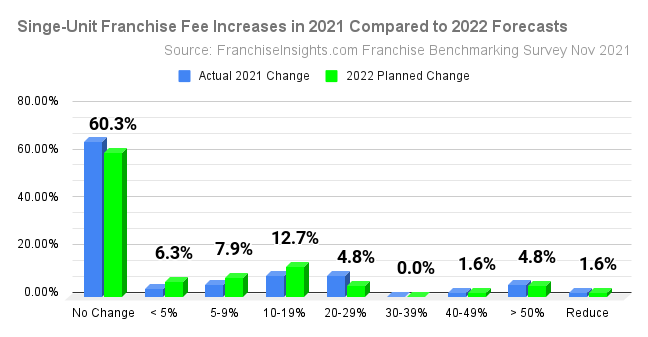 Clearly, businesses are likely responding to escalating labor and supply prices, as well as continuing strong demand for franchises. Franchises increasing fees in 2021 did so in the face of a global pandemic, likely buoyed by very strong franchise interest as seen in our monthly surveys of startup sentiment. 
Download a copy of the full October 2021 Small Business Startup Sentiment Index™report here. See excerpts from prior SSI™ surveys and subscribe to receive the Small Business Startup Sentiment Index™ monthly report when it is released.
Active franchises responding to the benchmarking survey hailed from a representative spectrum of categories and system sizes.
FranchiseVentures is the leading demand– and lead-generation platform for potential franchisees to thousands of growing franchise systems in the United States and Canada. Its franchise lead generation brands include Franchise.com, Franchise Solutions, Franchise Gator, Franchise Opportunities, Franchise For Sale, SmallBusinessStartup.com and BusinessBroker.net, and together they provide the largest aggregation of prospective franchise buyers in the U.S.
Interested in more insights from our proprietary data set? Subscribe to our email newsletter below, or follow us on LinkedIn.

Published on Tuesday, November 23rd, 2021.