Funding Grows as Top Concern For Franchise Buyers As Pandemic Impact Fades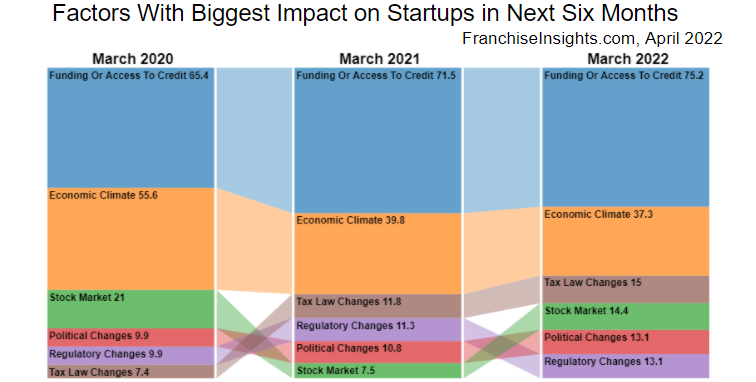 April 27, 2022 – Taking a snapshot of each March since 2020, "funding or access to credit" has increased as the biggest consideration for franchise buyers over the next six months.  Most recently in March 2022, 76.6% of respondents indicated that this was their biggest concern. From March 2020 when the total impact of the Covid-19 virus was unknown, this concern was shared by 64.5% of respondents, and grew to 71.5% in March 2021.
This proprietary data is drawn from surveys of the FranchiseVentures platform of franchise investment inquiries in the United States. 
Given the intention of a majority of aspiring business owners to use forms of debt as reported recently, inflation and rising interest rates are likely to drive concerns about funding to grow in the coming months.
Concerns about the "economic climate" subsided over this three year period, as noted by 37.8% of respondents in March 2022. Despite recent volatility in financial markets, geopolitical turmoil, increasing interest rates and inflation, broad US financial markets remain within single digits of all-time highs and interest rates are still low on a long term basis.
Over these two years, the stock market plummeted as a concern, given the steady rise from the pandemic low, but now returns as a concern given the forces above. Political, regulatory and tax changes grew in importance in post-election March 2021, as the new administration laid out its plans. All three of these concerns abated in the most recent period, as the realities of a divided government tempered some of the most ambitious programs and the taxes that would fund them. 
One clear take-away is that franchises that offer in-house financing, counseling on funding,  or have strategic relationships with lending sources, will find themselves at a distinct advantage in getting buyers to close. At the very least, helping buyers to understand the scope and options for funding will go a long way to overcome this concern which is likely to grow in the months ahead.
FranchiseVentures is the leading demand– and lead-generation platform for potential franchisees to thousands of growing franchise systems in the United States and Canada. Its franchise lead generation brands include Franchise.com, Franchise Solutions, Franchise Gator, Franchise Opportunities, Franchise For Sale, SmallBusinessStartup.com and BusinessBroker.net, and together they provide the largest aggregation of prospective franchise buyers in the U.S.
Interested in more insights from our proprietary data set? Subscribe to our email newsletter below, or follow us on LinkedIn.

Published on Wednesday, April 27th, 2022.