Personal Savings Leads Increases in Major Shifts Expected For Franchise Funding as Loans Lag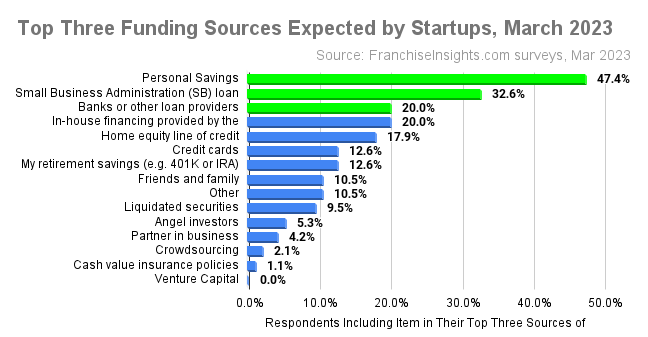 By: Michael Alston for Franchise Insights
March 29, 2023 – As March 2023 survey data arrives, aspiring franchisees now expect "personal sources" to make up the vast majority of funding for their business launches, with 47.4% including it in their top three sources. SBA loans and banks and other loan providers were second and third, included by 32.6% and 20.0% of respondents, respectively, to round out the top three choices. 
Significant shifts seen throughout 2022 led us to compare March 2023 to a year earlier, with surprising results. The following insights are from surveys of aspiring business owners conducted by FranchiseInsights.com in March 2023 compared to 2022.
Changes Since March 2022
The most significant increase was in the percentage of entrepreneurs naming "personal savings" among their top three expected sources, growing 12.4%. Franchisor "in-house financing" grew as a selection by 6.2%. "Liquidated securities" and "home equity line of credit" gained by 5.8% and 5.2% respectively. The category showing the least gain was "credit cards", growing at 3.6%.
On the other hand, "banks and other loan providers" were cited by 17.6% fewer respondents, and SBA loans were mentioned by 15.5% fewer respondents. Certainly the highest interest rates in more than forty years, and ongoing news of bank failures contributed to these changes in expectations.
The instincts of these entrepreneurs – that loans will play a lesser role – are confirmed by the Federal Reserve's bank Senior Loan Officer Opinion Survey. Collected in January even before the Silicon Valley Bank failure, it showed 44.8% of banks tightening loan standards, and a steeply rising trend.

The percentage of respondents in our sentiment surveys who say that "funding or access to credit" is the biggest concern has hovered around 70% over the last three years, and remains the biggest factor among those surveyed. "Economic climate", at 39.8% has seen a gentle increase over the last twelve months.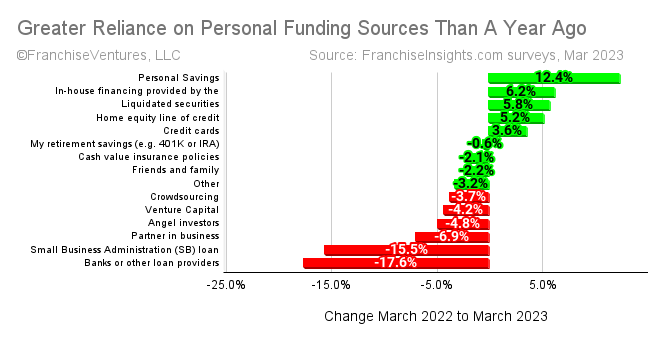 The "other" source option was offered by 10.5% of respondents in the most recent survey. Over the year period, the top "other" sources cited were as varied as "inherited IRA" and  "sale of home," and "cash from working capital" among many more. 
Surely, franchises which offer assistance with funding directly, or help with navigating the maze of options will reap rewards in converting more leads to sales.
FranchiseInsights.com conducts a monthly "mystery shopping survey" as well as the Small Business Startup Sentiment Index™ (SSI) of individuals who have recently inquired about businesses for sale.The most recent Startup Sentiment Index™ survey was conducted February 16-23, 2023.  Responses related to financing were collected from both instruments.
FranchiseVentures is the leading demand– and lead-generation platform for potential franchisees to thousands of growing franchise systems in the United States and Canada. Its franchise lead generation brands include Franchise.com, Franchise Solutions, Franchise Gator, Franchise Opportunities, Franchise For Sale, SmallBusinessStartup.com and BusinessBroker.net, and together they provide the largest aggregation of prospective franchise buyers in the U.S.
Interested in more insights from our proprietary data set? Subscribe to our email newsletter below, or follow us on LinkedIn.

Published on Wednesday, March 29th, 2023.