Two-Year Franchise Category Trends Show Pandemic Impact on Buyer Interest
Franchise Leads Ebb and Flow With Perceptions of Viability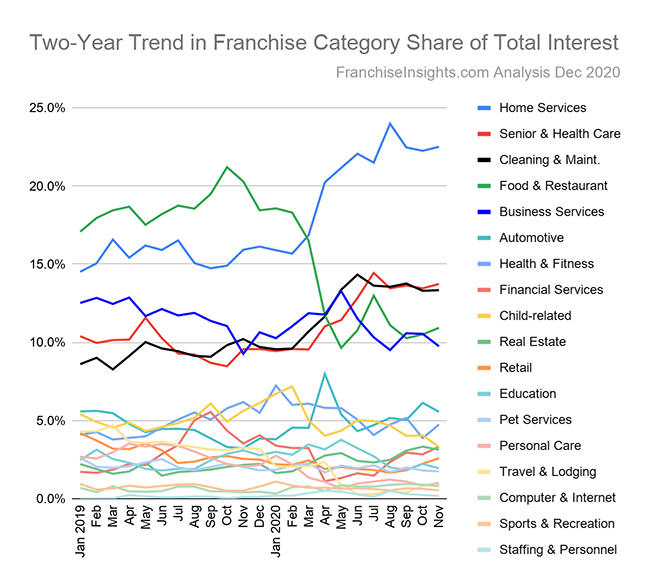 Dec. 22, 2020 – The roller-coaster year of 2020 has left its mark on categories of franchise interest, with winners and losers. The Home Services, Senior and Health Care, and Cleaning and Maintenance franchise categories grew significantly, despite already having large shares of interest prior to the pandemic outbreak.
In last week's article, we used regression to the mean and predicted that inquiries to Personal Care and Travel and Lodging franchises are likely to grow geometrically in 2021. The likely-fastest growers in 2021 using this approach are those that fell most in buyer interest during the pandemic. The imposition by states of restrictions on certain categories of businesses (personal care, food and restaurants), as well as government restrictions on travel, explains these drops. Conversely, the removal of restrictions and safety measures in these industries — along with vaccines and consumer confidence — will propel a resurgence in interest in 2021.
Business categories by ranking of November 2020 interest share:
Home Services franchises grew the fastest to 22.5% of the franchise investment inquiries in November 2020, moving up from 14.5% in January 2019 and retaining the top spot for category interest. This broad category includes subcategories like Home Improvement and Handyman Services, Landscaping and Lawn care, Painting and Pest Control businesses, and Moving and Alarm services, among others.This caps the surge that was first seen in Q2 2020.
Senior and Health Care franchise categories grew to 13.7% of franchise inquiries in November and rose to the second largest category after several flat months during the middle of 2019, up from 10.4% in January 2019. This category has shown relative strength throughout the pandemic, as an aging population creates strong demand in all economic climates, and especially so as hospitals began directing more post-care referrals to home health providers over skilled nursing facilities (WSJ, 12/22/20).
Cleaning and Maintenance franchises were a close third, growing to 13.3% of franchise inquiries in November 2020, compared to 8.6% in January of the prior year, no doubt driven by increasing demand during the Covid-19 pandemic. This category includes business concepts spanning both business-to-business and consumer cleaning and maintenance services.
Food and Restaurant franchises, although dropping from the most popular category in franchise interest, a spot it had held for years, managed to claim the fourth most popular category despite the upheaval in the industry at 10.9% in November 2020, down from 17.1% in January 2019. Fewer concepts actively seeking prospects (advertising) was definitely a factor for this category.
Rounding out the top five, Business Services franchises, with 9.8% of prospect interest in November 2020, dropped from a surge in May to 13.3% after Covid-19 emerged. This diverse category includes B2B subcategories like Advertising and Tax services, Printing and Insurance services, and Business Consulting and Expense Reduction, among others.
Health and Fitness, Personal Care and Financial Services categories, though drawing smaller shares of overall interest, were the fastest-growing October to November, 2020, at 22%, 21% and 18% respectively. Below, see separate charts of the larger and smaller categories for easier comparison, with the caveat that sample sizes are lower for the smallest categories.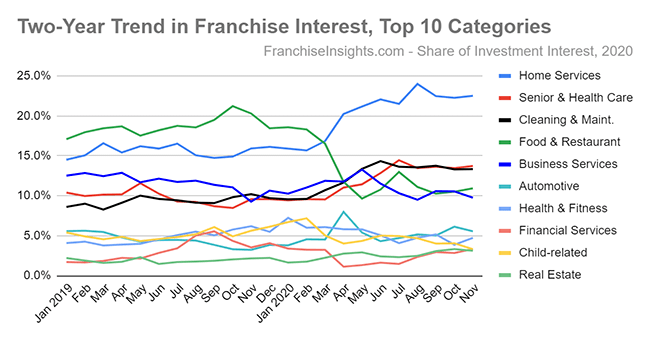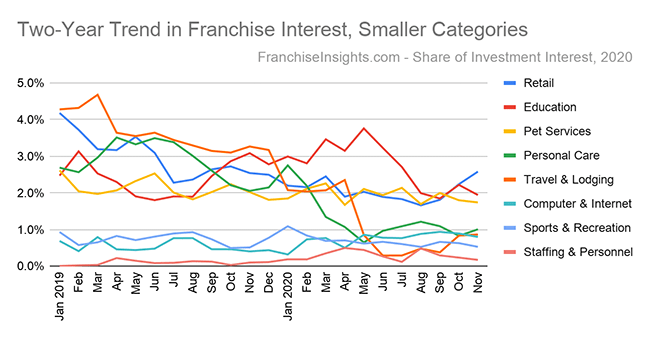 At this writing, news of a "new" new Coronavirus in the UK breaks, along with imposition of more travel and business restrictions. It remains to be seen whether this will prolong what has been a painful recurrence of Covid-19 diagnoses and deaths — and delay the inevitable recovery.
FranchiseVentures is the leading demand– and lead-generation platform for potential franchisees to thousands of growing franchise systems in the United States and Canada. Its franchise lead generation brands include Franchise.com, Franchise Solutions, Franchise Gator, Franchise Opportunities, Franchise For Sale, SmallBusinessStartup.com and BusinessBroker.net, and together they provide the largest aggregation of prospective franchise buyers in the U.S.
Interested in more insights from our proprietary data set? Subscribe to our email newsletter below, or follow us on LinkedIn.

Published on Tuesday, December 22nd, 2020.