January Startup Sentiment Index™ Confirms Midyear 2021 Startup Surge
Record 22% of Respondents Are Current Owners Seeking a Second Business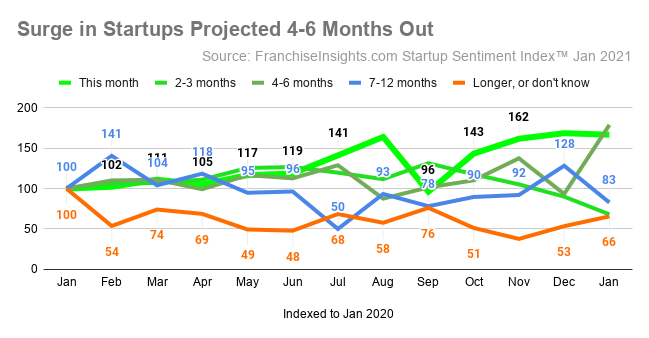 February 3, 2021 – Entrepreneurs expressing intent to start "four to six months out" rose to a record 25.6% of respondents, by far the highest on record, and indexing at 167% of January 2020.These are the highest levels ever recorded in the FranchiseInsights.com Small Business Startup Sentiment Index™ (SSI) of individuals who have recently inquired about businesses for sale.
The survey was conducted January 21-26, 2021, in the days after the inauguration, amid news of multiple vaccine options with high efficacy becoming available to millions of Americans.
Additional highlights:
Future business conditions:

Respondents were more optimistic, with 44.4% believing that, in three months, business conditions will be "better" or "much better" than now, up from 42.6% in December 2020.

Access to funding:

Some entrepreneurs' concerns are growing, with those seeing funding as "harder or much harder" to obtain rising to 37.6% in January from 29.2% in December.

Demographics

: 46.3% are currently employed full-time, and a

survey record of 22% are current business owners

. While Gen-X (41.2%) and Gen-Y (31.8%) are the highest percentage of survey respondents, "Baby Boomers" at 23.5% continued the surge first seen in December as a share of respondents, mostly taking share from the Millennial cohort.
The Small Business Startup Sentiment Index™ is derived from a monthly survey of individuals who have recently inquired about businesses or franchises for sale on the digital assets of FranchiseVentures, and measures business-buyer sentiment on more than a dozen factors.
FranchiseVentures is the leading demand– and lead-generation platform for potential franchisees to thousands of growing franchise systems in the United States and Canada. Its franchise lead generation brands include Franchise.com, Franchise Solutions, Franchise Gator, Franchise Opportunities, Franchise For Sale, SmallBusinessStartup.com and BusinessBroker.net, and together they provide the largest aggregation of prospective franchise buyers in the U.S.
Interested in more insights from our proprietary data set? Subscribe to our email newsletter below, or follow us on LinkedIn.

Published on Wednesday, February 3rd, 2021.