More Than 63% of Franchisors Plan To Increase Recruitment Spend in 2020
In a strong showing of their confidence about the future, nearly two-thirds of franchises plan to spend more to recruit new franchisees in 2020, according to a survey across the Franchise Ventures demand-generation platform. 
"Business confidence is evident in  franchises, the leading category of small businesses," said Michael Alston, president of Franchise Ventures. "Growth-oriented franchises are upping their budgets to facilitate growth."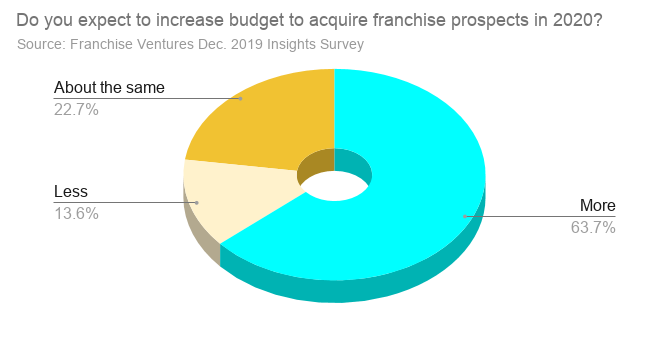 "Not only is the broad economy favorable for growth, but low unemployment means that franchisors are competing with traditional employers for attractive candidates," Alston said. "But low employment is not holding back the interest in owning franchises."
More than 86% of survey participants plan to spend at least the same amount in 2020 as they spent on franchise lead generation in 2019. 

Nearly 64% of respondents said they planned to increase their budgets for franchise lead generation in 2020.

The average recruitment budget was $100,000, and the average system had 92 units, ranging from 1 to 800. The December 2019 survey was of active U.S. franchise customers, with franchise systems of 2,500 units or less, and budgets as high as $500,000 for 2019.
Franchise Ventures is the leading demand generation platform for potential franchisees for thousands of growing franchise systems in the United States and Canada. Its franchise lead-generation businesses include Franchise.com, Franchise Solutions, Franchise Gator, Franchise Opportunities, Franchise For Sale, and BusinessBroker.net, and together they provide the largest collection of prospective franchise inquiries in the U.S.
Interested in more insights from our proprietary data set? Subscribe to our email below, or follow us on LinkedIn.

Published on Tuesday, December 17th, 2019.