Concerns about the Omicron Virus May have Impacted the Recent Volume of Franchise Inquiries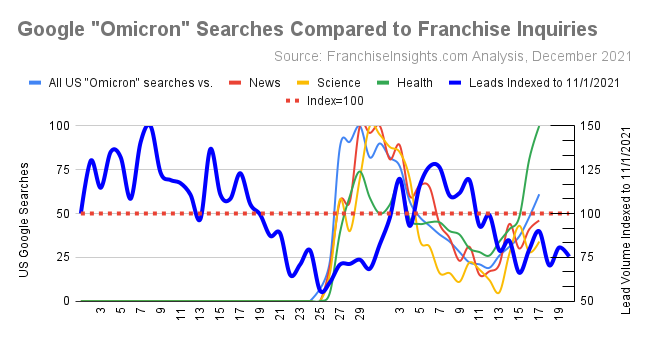 December 22, 2021 – The flow of franchise prospects usually ebbs on days leading up to holidays, as travel and spending time with loved ones takes precedence. Following the Christmas holidays in the US, franchise inquiries usually increase, as interested prospects have extra time to ponder and make big plans for the coming year. 
But 2021 has been an extraordinary year. Inquiries soared in early November, and then began to decline as the Thanksgiving week approached, reaching a low on Thursday, November 25th, as seen in the chart above. The blue line is aggregate franchise leads across the FranchiseVentures network of franchise advertising brands on the right scale, indexed to November 1, 2021 (November 1 = 100).
On Friday, November 26, the headlines were all about a new variant, and the stock markets dropped. From a few searches on Thanksgiving day, searches for "omicron" soared on November 26, as seen in the light blue "all omicron searches" line, and also in searches of the news category in red. 
On the other hand, health-related searches for "omicron" (green) lagged initially, but grew to a peak later on December 17 (the most recent data available as of this writing). After positive intervening news about the effectiveness of vaccines against the new virus, it became the dominant variation in new cases seen in the US, and concerns mount about exposures during travel and family gatherings over the holidays. 
Franchise inquiries were already lagging when compared to the recovery in US employment. This is despite a robust expectation for Q1 2022 based on our monthly surveys of prospects.  
The national flow of franchise inquiries dropped in the first week of December, in a very early start to the seasonal slowdown, as seen in the chart. Nonetheless, as better news emerges, especially given the low hospitalization rates and few deaths, we expect the seasonal rebound in interest for the weeks following the Christmas holiday.
We wish all of our customers, and the aspiring business owners that we serve, a wonderful holiday, and a prosperous New Year!

The FranchiseVentures Team
FranchiseVentures is the leading demand– and lead-generation platform for potential franchisees to thousands of growing franchise systems in the United States and Canada. Its franchise lead generation brands include Franchise.com, Franchise Solutions, Franchise Gator, Franchise Opportunities, Franchise For Sale, SmallBusinessStartup.com and BusinessBroker.net, and together they provide the largest aggregation of prospective franchise buyers in the U.S.
Interested in more insights from our proprietary data set? Subscribe to our email newsletter below, or follow us on LinkedIn.

Published on Wednesday, December 22nd, 2021.