Franchise Inquiries Increasingly Outside of Business Hours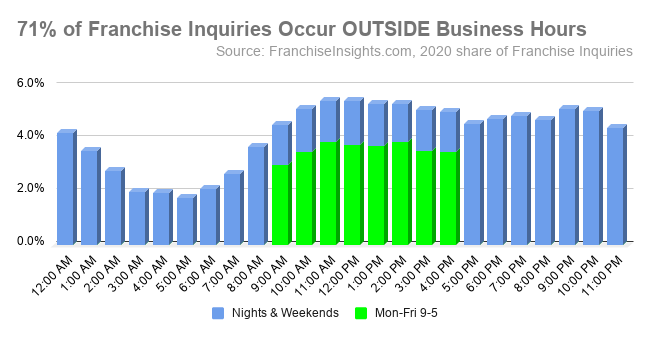 December 29, 2020 – While the Internet offers great convenience for prospective business owners to research and contact franchisors at any hour of any day, it also creates a challenge for franchise development teams who want to respond to those prospects in a timely fashion. And a new analysis of the largest pool of franchise-investment inquiries in the U.S. shows that challenge got a little tougher this year.
Overall, 71% of new-investment prospects in 2020 are researching franchises and initiating contact during evenings and weekends – outside of typical business hours when many development teams are working. That's up from 67% off-hour inquiries reported in 2019. 

The mismatch exists across all time zones, but is greater on the West Coast. Off-hour inquiries are 73.6% of total inquiries in the Pacific time zone this year, compared to 70.2% in the Eastern time zone. That's up from 71% and 66% last year, respectively.
Simply put, more than two-thirds of prospects are in shopping mode at a time that franchisors are in off-hours mode. If you're receiving 10 leads a day, the odds are that only 2 or 3 are generated during business hours, when business calls are most likely to occur.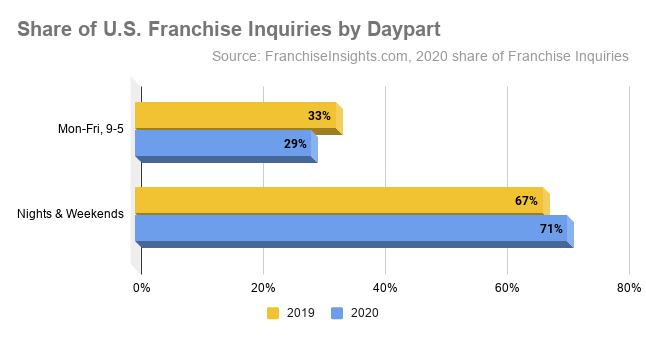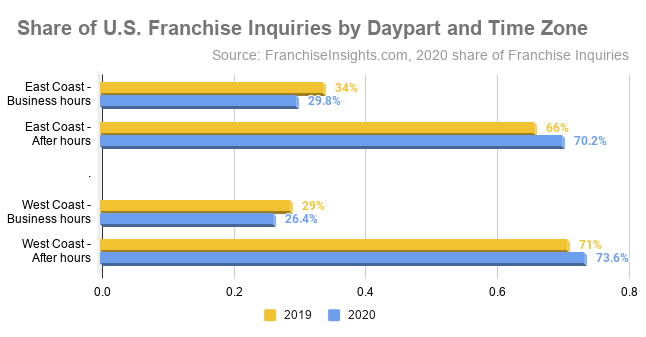 Understanding these patterns suggests some simple steps that every franchise sales team can use to improve their contact rate:
Shift your team's coverage

to match prospect activity, and don't hesitate to respond quickly during allowable calling hours. Chances are the prospect inquired from a mobile phone and is available now. 

Pay attention to the prospect's location

. Be willing to call outside

your

business business hours when it matches the

prospect's

time zone.

Pay attention to when the lead arrived

. If you're calling several hours later than an overnight inquiry, be prepared to leave a short message pointing out time zone differences and asking when it's convenient to re-connect.

Use a combination of phone, text and email messaging to discover the best contact method

for each prospect.

Depending upon personality, age, income, and business sophistication, different methods will be effective for different people.

Send an email or text to make initial contact.

In Q4 2020, more than 40% of prospects surveyed said they "unlikely or very unlikely" to accept a phone call from a franchise that had not first sent an email or text introduction. 
The Franchise Insights desktop and mobile apps are designed specifically to make it easier to converse with prospects across multiple channels in a timely manner, and access to the apps is available for free to clients of the FranchiseVentures lead-generation portals. 
Adding to the contact-rate challenge is the  importance of complying with federal regulations for marketing phone calls and text messages. A recent FranchiseVentures webinar highlighted the risks of not complying with TCPA and Do Not Call regulations, and offered basic advice to franchisors who want to verify compliance on their own websites and marketing partners. 
Through the Franchise Insights desktop or mobile app, customers of FranchiseVentures companies can review the status of each lead for data validation, Do Not Call status, and consent in real time.
[If you are a current client, and don't have access, you can request it here.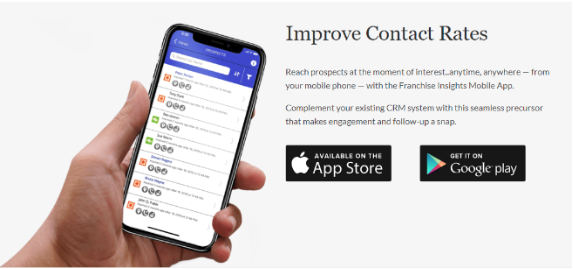 FranchiseVentures is the leading demand– and lead-generation platform for potential franchisees to thousands of growing franchise systems in the United States and Canada. Its franchise lead generation brands include Franchise.com, Franchise Solutions, Franchise Gator, Franchise Opportunities, Franchise For Sale, SmallBusinessStartup.com and BusinessBroker.net, and together they provide the largest aggregation of prospective franchise buyers in the U.S.
Interested in more insights from our proprietary data set? Subscribe to our email newsletter below, or follow us on LinkedIn.

Published on Tuesday, December 29th, 2020.