Franchise Systems Continue to Pursue Growth in 2022 Despite Business Conditions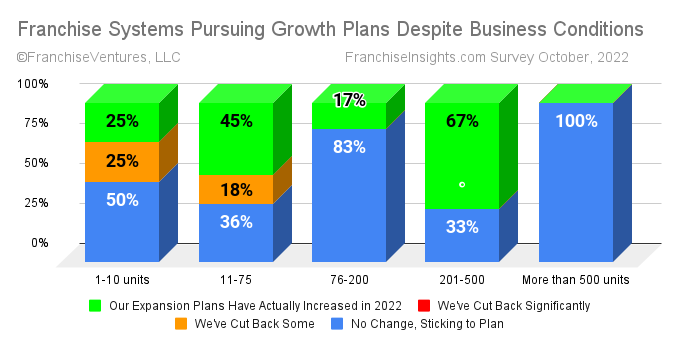 October 11, 2022 – Despite soaring interest rates, volatile financial markets, declining consumer confidence and increasing lead costs,  none of the U. S. franchisors responding to a recent survey say they have cut back their development budgets significantly for 2022. Moreover, one third (33.3%) have actually increased their expansion plans for this year. 
There was some variation by system size, with those indicating that they have "cut back some" (orange color in the chart) being confined to the one- to seventy-five unit range (first two columns from the left).
Franchise systems are somewhat unique in this "lean in to the headwinds" attitude. Small Business sentiment in general is down, with September optimism being the "ninth consecutive month below the 48 year average" according to the NFIB. As yet, neither macroeconomic factors nor business conditions have caused franchises to change their growth plans, with 55.6% indicating no change at all. With only 11.1% saying that they have "cut back some," that means almost 89% of franchise systems saying that their growth budgets are the same or greater than planned.
FranchiseInsights.com surveys franchisors periodically to get a pulse on the industry, provide benchmarking and identify best practices. This survey was conducted September 14-28, 2022.
FranchiseVentures is the leading demand– and lead-generation platform for potential franchisees to thousands of growing franchise systems in the United States and Canada. Its franchise lead generation brands include Franchise.com, Franchise Solutions, Franchise Gator, Franchise Opportunities, Franchise For Sale, SmallBusinessStartup.com and BusinessBroker.net, and together they provide the largest aggregation of prospective franchise buyers in the U.S.
Interested in more insights from our proprietary data set? Subscribe to our email newsletter below, or follow us on LinkedIn.

Published on Tuesday, October 11th, 2022.