Mystery Shopping Survey Reinforces Significance of First Contact Channel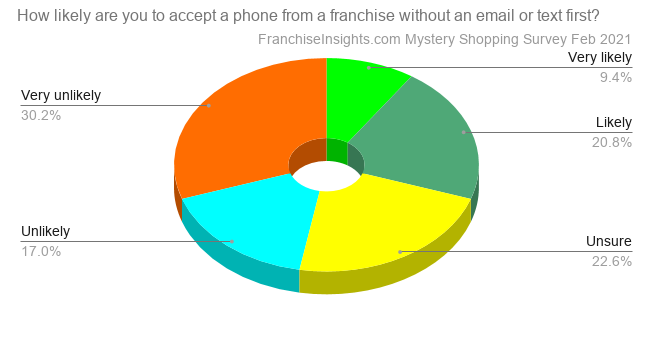 March 3, 2021 – One thing that the pandemic hasn't changed is the desire of franchise prospects to have some form of initial contact prior to receiving an incoming phone call.
Tip #1 – Send an email or text to make initial contact
Consumers have taken measures to block or silence callers whose numbers are not in their contact lists. Also, in many cases, prospects want to set up a convenient time, or get some kind of introduction to know more about your franchise before calling you or taking your call. In a February 2021 survey of franchise prospects, over 47% are unlikely or very unlikely to accept a phone call from a franchise with which they have not first exchanged an email or text. This figure is down from 57% last February, but remains almost half of all prospects.
On the other hand, over 30% said they are "likely or very likely to accept a phone call from a franchise before receiving an email or text with more information on the opportunity." The challenge is that you can't identify these prospects in advance, so it is best to reach out via text or email first.
Tip #2 – Don't give up on your leads after 7 days!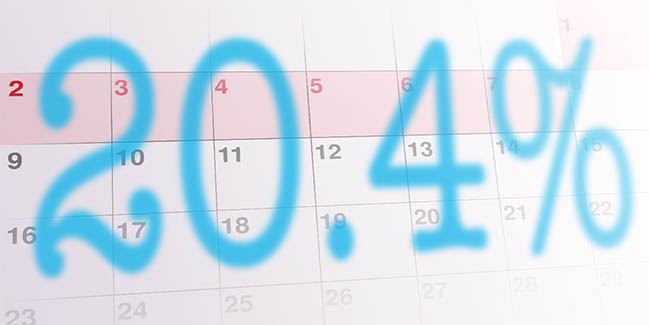 According to a February 2021 mystery shopping survey of prospective buyers, 20.4% of the prospects surveyed indicated they "just haven't had a chance to respond yet" more than seven days after the initial inquiry — but they still intend to engage. This reinforces that franchise development professionals should not give up on leads that are unreachable in the first week.
How best to reconcile that fact with speed of contact? A pivotal Harvard Business Review article established the importance of quick response when a prospective franchise buyer inquires about your brand. Perhaps this presents another reason for reaching out immediately by email or text to start the relationship.
The "mystery shopping" survey of franchise inquirers is conducted monthly on the Franchise Ventures lead generation platform.
FranchiseVentures is the leading demand– and lead-generation platform for potential franchisees to thousands of growing franchise systems in the United States and Canada. Its franchise lead generation brands include Franchise.com, Franchise Solutions, Franchise Gator, Franchise Opportunities, Franchise For Sale, SmallBusinessStartup.com and BusinessBroker.net, and together they provide the largest aggregation of prospective franchise buyers in the U.S.
Interested in more insights from our proprietary data set? Subscribe to our email newsletter below, or follow us on LinkedIn.

Published on Wednesday, March 3rd, 2021.