58% Of Potential Franchisees Are Married, Boosting Average Income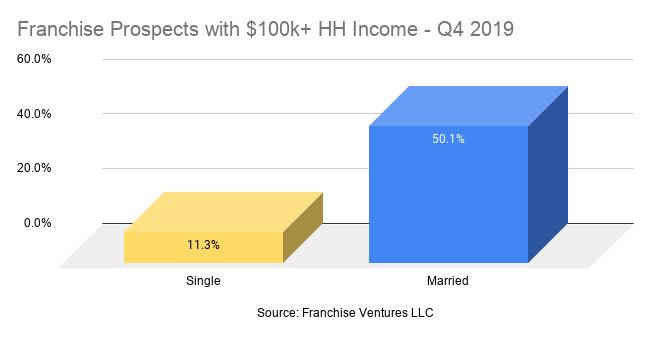 More than half of prospects interested in buying a franchise are married, which turns out to be an important factor in boosting average household income.
In fact, half of married prospects have a household income of $100,000 or more in Q4 of 2019, according to the latest data analysis by Franchise Ventures. 
For this analysis, Franchise Ventures combined its pool of investment inquiries with demographic data from Alliant, a leading provider of U.S. consumer audience targeting and data enrichment and predictive analytics. 
In Q4 of last year, 58.5% of prospects contacting franchisors were married, and 50.1% of the married prospects had estimated household income of $100,000 or more.

Interestingly, married Generation X prospects ranked highest for income, with 56.8% at $100,000 or more. Baby Boomers had 49.7% of married prospects with at least $100,000, and Millenials had 36.2%
Franchise Ventures is the leading demand generation platform for potential franchisees to thousands of growing franchise systems in the United States and Canada. Its franchise lead-generation businesses include Franchise.com, Franchise Solutions, Franchise Gator, Franchise Opportunities, Franchise For Sale, and BusinessBroker.net, and together they provide the largest collection of prospective franchise inquiries in the U.S.
Interested in more insights from our proprietary data set? Click Subscribe in the menu to sign up for our email newsletter, or follow us on LinkedIn.

Published on Wednesday, March 18th, 2020.