Among Millennials and Gen X, Women Outpace Men in Share of Franchise Interest
No Glass Ceiling: Women are a Greater Share of Franchise Inquiries than Men


Sept. 24, 2020 – Owning your own business holds similar appeal to men and women alike, as both are fairly evenly represented among entrepreneurs who are exploring potential franchise ownership this year.
Among younger generations in particular, women lead in the number of investment inquiries made to franchises in 2020. The average female prospect contacts slightly more franchises than the average male prospect, so the total number of investment inquiries (franchises contacted) is higher for women. That's according to the latest data from the FranchiseVentures network of franchise directories, which provides the largest flow of franchise-investment inquiries from potential franchise buyers in the United States.
Gender of prospective franchisees is balanced across all ages. Overall, women account for 47.8% of prospects contacting franchises, and men 52.2%. With a higher contact rate, women make 49.5% of the investment inquiries, and men 51.5%.

Women initiate more franchise inquiries in the younger age cohorts – 50.4% of investment inquiries among Millennials (ages 23 to 38), and 50.2% among Generation X (ages 39 to 54). Among Baby Boomers (ages 55 to 73), men make 51.5% of the franchise contacts.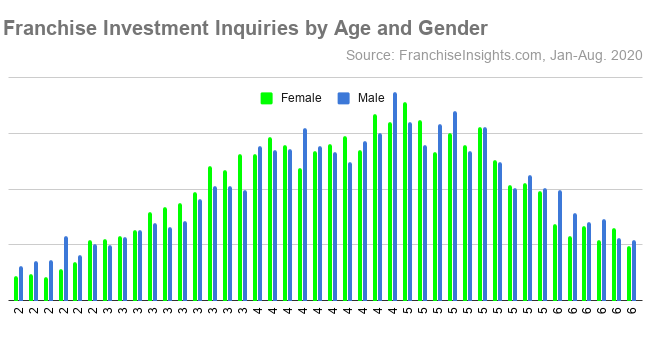 For this analysis, Franchise Insights combined proprietary data from the FranchiseVentures' demand-generation platform with demographic data from Alliant, a leading provider of U.S. consumer audience targeting and data enrichment and predictive analytics.
FranchiseVentures is the leading demand– and lead-generation platform for potential franchisees to thousands of growing franchise systems in the United States and Canada. Its franchise lead generation brands include Franchise.com, Franchise Solutions, Franchise Gator, Franchise Opportunities, Franchise For Sale, SmallBusinessStartup.com and BusinessBroker.net, and together they provide the largest aggregation of prospective franchise buyers in the U.S.
Interested in more insights from our proprietary data set? Subscribe to our email newsletter below, or follow us on LinkedIn.

Published on Thursday, September 24th, 2020.