Coming Wave of US Population Reaching Prime Startup Age Portends Decades of Franchise Growth Ahead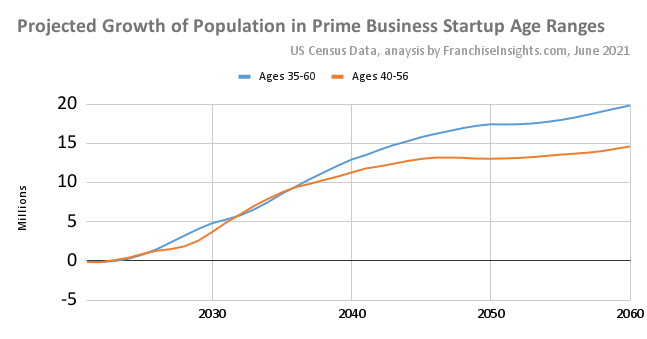 June 15, 2021 – While Generation X prospects (born 1965-1980) are currently the largest demographic group seeking franchise ownership, Millennials are a much larger cohort. Together, these two generations will combine to create the largest US population at the prime ages for business startup. The next two decades are projected to add over 12.9 million more individuals in the age range 35-60, with over 87% of the additions in the prime startup years of ages 40-56. 
What's driving this inevitable tidal wave? The two generations following the Baby Boomers are larger and growing faster than Boomers are aging out. The chart below from the Pew Research Center shows the relative sizes of the generations over time.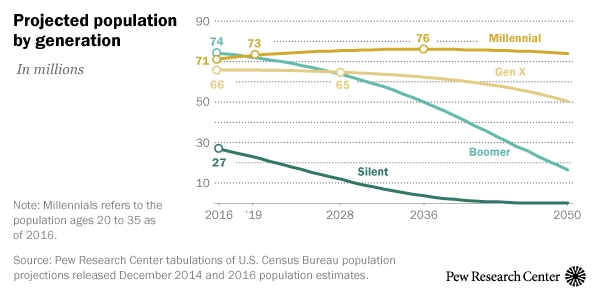 The 35-60 age group made up 70.6% of all inquiries about franchise ownership to the FranchiseVentures network of leading brands in the first four months of 2021. The 40-56 age group made up over 50.5% of all franchise inquiries, earning them the distinction of the highest propensity for franchise research and purchase. A recent report shared the age distribution of franchise prospects, showing the high representation of Generation X prospects, which roughly overlay that age range.
While there are many factors — political, economic, regulatory, societal — that influence the preference for franchises over employment or other forms of business ownership, the supply of individuals with the knowledge, drive and wherewithal to take the plunge is a tide that raises all boats. The inevitable boom in prime age population bodes well for the coming decades of franchise growth.
Note: for this analysis, the most recent US Census Population Projections were used. These projections are using the 2010 census updated as recently as 2017 for inputs on births, deaths and migration. No doubt the 2020 Census will be a rich source for new insights, though the broad conclusion should be the same.
FranchiseVentures is the leading demand– and lead-generation platform for potential franchisees to thousands of growing franchise systems in the United States and Canada. Its franchise lead generation brands include Franchise.com, Franchise Solutions, Franchise Gator, Franchise Opportunities, Franchise For Sale, SmallBusinessStartup.com and BusinessBroker.net, and together they provide the largest aggregation of prospective franchise buyers in the U.S.
Interested in more insights from our proprietary data set? Subscribe to our email newsletter below, or follow us on LinkedIn.

Published on Wednesday, June 16th, 2021.