Even Amid Pandemic, Many Franchise Prospects Top Six Figures in 2020 Household Income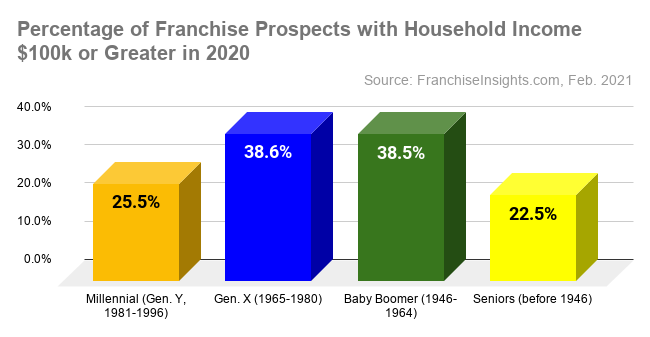 Feb. 24, 2021 – More than a third of prospective franchisees earned household incomes greater than $100,000 in 2020, a relatively stable percentage despite the pandemic's effect on employment for the better part of the year. 
For this analysis, Franchise Ventures scored its pool of investment inquiries with demographic data from Alliant, a leading provider of U.S. consumer audience targeting and data enrichment and predictive analytics.
Overall, 35% of new-investment prospects in 2020 had  estimated household income over $100,000. That's down slightly from 37% in 2019.

Generation X

, ages 40 to 55, represents almost half of all franchise prospects, and had 38.6% maintaining $100,000+ household income last year, down from 41.2% in 2019. 

Baby Boomers,

ages 56 to 74, comprise a quarter of aspiring franchise owners, and are on par with Gen X for household income – 38.5% earned six figures in 2020, down slightly from 40.6% the previous year.

Millennials (or Gen Y)

, ages 24 to 39, are the third-largest cohort of prospective franchise owners, with 25.5% holding household earnings of $100,000 or more last year, virtually unchanged from 25.7% in 2019.
While the U.S. Census Bureau is still studying the effect of the pandemic on household income, previous analyses have shown that franchise prospects typically exceed the general population in household income.
FranchiseVentures is the leading demand– and lead-generation platform for potential franchisees to thousands of growing franchise systems in the United States and Canada. Its franchise lead generation brands include Franchise.com, Franchise Solutions, Franchise Gator, Franchise Opportunities, Franchise For Sale, SmallBusinessStartup.com and BusinessBroker.net, and together they provide the largest aggregation of prospective franchise buyers in the U.S.
Interested in more insights from our proprietary data set? Subscribe to our email newsletter below, or follow us on LinkedIn.

Published on Wednesday, February 24th, 2021.