Franchise Prospects Top $100k in Household Income
Nov. 22, 2019 – One-third of prospective franchisees have at least $100,000 in annual household income, according to the latest data analysis by Franchise Ventures — and income is clearly a key factor in finding franchisee candidates who are qualified for different opportunities.
For this analysis, Franchise Ventures combined its pool of investment inquiries with demographic data from Alliant, a leading provider of U.S. consumer audience targeting and data enrichment and predictive analytics.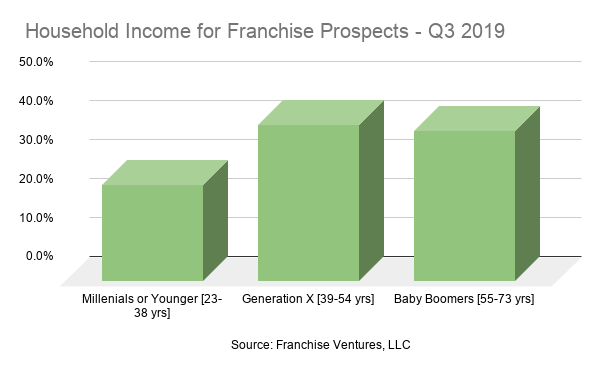 At 33.6% with household income greater than or equal to $100k, franchise prospects topped the national average for higher incomes The latest Census Bureau numbers estimated 29.2% of the U.S. population fell into the same income group. 

Generation X, ages 39-54, had the greatest proportion of high-income households, with 40.3% over $100,000 and 29% between $50,000 and $100,000.

Baby Boomers, ages 55-73, ranked next, with 38.6% over $100,000 and 31.6% between $50,000 and $100,000.
FranchiseVentures is the leading demand– and lead-generation platform for potential franchisees to thousands of growing franchise systems in the United States and Canada. Its franchise lead generation brands include Franchise.com, Franchise Solutions, Franchise Gator, Franchise Opportunities, Franchise For Sale, SmallBusinessStartup.com and BusinessBroker.net, and together they provide the largest aggregation of prospective franchise buyers in the U.S.
Interested in more insights from our proprietary data set? Subscribe to our email newsletter below, or follow us on LinkedIn.

Published on Friday, November 22nd, 2019.