Funding Remains Top Concern For Business Buyers As Pandemic Restrictions Ease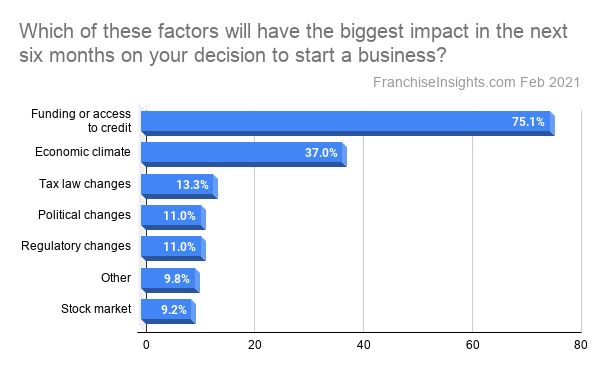 March. 24, 2021 – As the vaccinated share of the population increases, and states ease restrictions on social distancing, respondents to a recent survey of aspiring small business owners chose "funding or access to credit" as the biggest barrier to buying a franchise over the next six months. The survey of future business owners was collected February 25-28 for the most recent Small Business Startup Sentiment Index™.
Aspiring buyers understand that adequate funding to cover franchise fees and startup costs will likely require access to credit in addition to their liquid cash reserves. Over 75% identify "funding or access to credit" as their greatest concern, reaching the highest level since these surveys began.. This factor has grown over the last 12 months from the 65.2% seen in February 2020 before the coming impact of the pandemic was widely understood.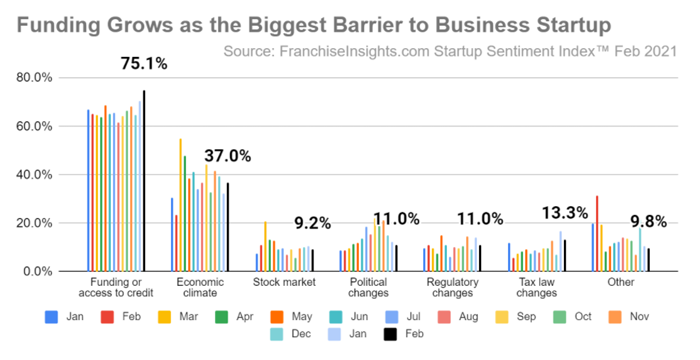 "Economic climate" was selected as the second most significant hurdle, though that factor has been in a general decline since the pandemic began. The remaining factors have a relatively small impact. Respondents could select more than one factor.
While the U.S. Census Bureau is still studying the effect of the pandemic on household income, recent analyses by FranchiseInsights.com have shown that even through the crisis many franchise prospects exceed $100k in household income.
The message is that franchises that offer in-house financing or have strategic relationships with lending sources will find themselves at a distinct advantage. At the very least, helping buyers to understand the scope and options for funding will go a long way to overcome this concern.
FranchiseVentures is the leading demand– and lead-generation platform for potential franchisees to thousands of growing franchise systems in the United States and Canada. Its franchise lead generation brands include Franchise.com, Franchise Solutions, Franchise Gator, Franchise Opportunities, Franchise For Sale, SmallBusinessStartup.com and BusinessBroker.net, and together they provide the largest aggregation of prospective franchise buyers in the U.S.
Interested in more insights from our proprietary data set? Subscribe to our email newsletter below, or follow us on LinkedIn.

Published on Wednesday, March 24th, 2021.