Historic Changes in Franchise Prospect Demographics: Women's Interest in Franchises, Suppressed During the Pandemic, Is Now Rebounding Disproportionately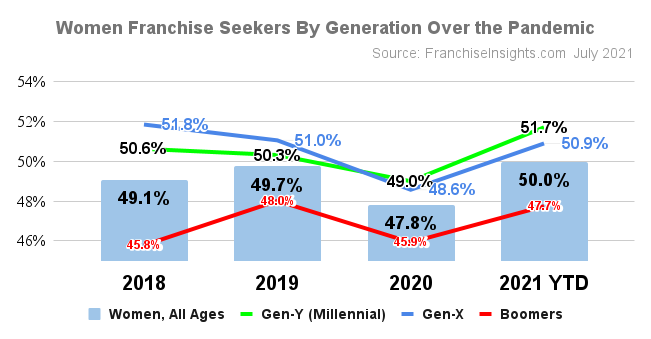 July 21, 2021 – The largest multi-year data set of aspiring franchisees reveals historic changes in the makeup of the pool of future franchise owners. The percentage of women seeking information about franchise ownership dipped during the height of the pandemic in 2020. But if the first half of 2021 is any indication, women are returning to the pursuit of business ownership — particularly among Gen-X and Gen-Y (Millennial) age cohorts — and now represent half of all prospects, regardless of age.
In 2018, women were the highest percentage of the Gen-X age cohort (41 to 56 in 2021) at 51.8%.They shrank in share compared to men over the next two years, decreasing to 49% of Gen-X inquiries in 2020 during the height of pandemic disruption. Through June 2021, they have rebounded to 50.9% of Gen-X prospects, but have not reached the pre-Covid level.
Gen-Y women (millennials, age 25 to 40 in 2021) were 50.6% of franchise inquiries in 2018, slightly lower than Gen-X, likely to to a higher percentage of the youngercohort at the peak of childbearing years. A lower percentage of millennial women took the first steps toward franchise ownership during the pandemic, presumably due to the disproportionate impact of work and child care disruption, along with economic hardships. Remarkably, this situation has reversed in the first half of 2021, with Gen-Y women reaching 51.7% of prospects, a new high for the Millennial age cohort.
Women are under half of Boomer-aged franchise owner aspirants, though their share has rebounded to what it was in 2019. As Boomers age out of prime business startup years, replaced by now larger Gen-X and Gen-Y age cohorts seeking franchise ownership , women are likely to continue to gain share of the franchisee population and ride the crest of the tidal wave of business startups in the next few decades.
For this analysis, Franchise Insights combined proprietary data from the FranchiseVentures' demand-generation platform with demographic data from Alliant, a leading provider of U.S. consumer audience targeting and data enrichment and predictive analytics.
FranchiseVentures is the leading demand– and lead-generation platform for potential franchisees to thousands of growing franchise systems in the United States and Canada. Its franchise lead generation brands include Franchise.com, Franchise Solutions, Franchise Gator, Franchise Opportunities, Franchise For Sale, SmallBusinessStartup.com and BusinessBroker.net, and together they provide the largest aggregation of prospective franchise buyers in the U.S.
Interested in more insights from our proprietary data set? Subscribe to our email newsletter below, or follow us on LinkedIn.

Published on Wednesday, July 28th, 2021.