Insights Into Franchise Buyer Personas from Rankings of Desired Franchise Characteristics
March 23, 2022 — There seem to be at least two market segments or distinct buyer groups reflected in the FranchiseInsights.com Small Business Startup Sentiment survey in their preferences for franchises. Respondents were asked to rank eight franchise characteristics in order of importance to their ultimate selection, along with a "not important to me" option for each.
As we reported in our first article on the relative importance of franchise characteristics to buyers, "low cost of entry" and "higher earnings potential" were ranked highest, on a weighted average of responses, as seen in the chart repeated below. But looking beyond the weighted average is needed to gain insight into the motivations of groups of buyers who think similarly.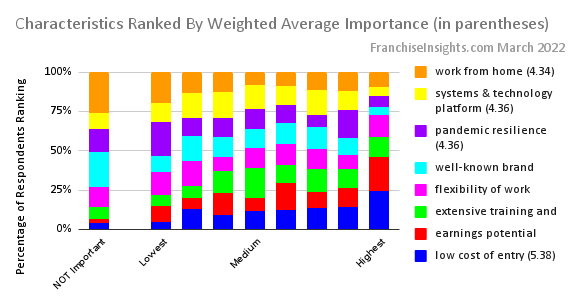 Low cost of entry and high earnings potential are attractive enough to so many respondents that those characteristics aren't very useful for discovering the uniqueness of their interests, or grouping them. 
By removing those two "popular" characteristics and performing cluster analysis on the remaining six , one can begin to visualize two segments of buyer prospects. In the chart above, the X and Y axes most separate the characteristics in three-dimensional space. The size of the bubbles show a third axis, and the colors indicate a fourth dimension – the weighted average score, with darker blue being the highest as shown in the legend on the right.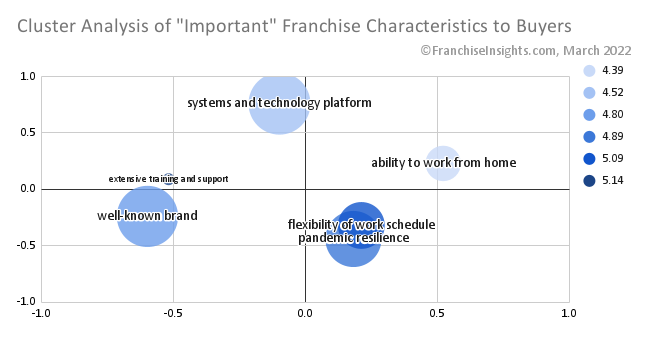 Two Buyer Personas
One segment of buyers is attracted to an established brand, systems and technology platform, and training and support, judging from the proximity of these franchise attributes in the plot. This group is in the upper left (or northwest) quadrant in the plot. "Extensive training and support" had the highest weighted average among these six, but it is farther away on the third axis (in the background in this view). 
The second group seems driven by a different and more individually-focused set of needs. They value flexibility in the work situation – expressing the desire for "flexibility of work schedule", and to a lesser degree (lighter color) the ability to work from home. Interestingly, "pandemic resilience" was very close to "flexibility of work schedule." One interpretation would be that a segment of franchise buyers, having lived through the disruptions of the pandemic, are both aware of the risks and opportunities there, and may be expressing a desire not to return to the traditional commuter workplace in their preferences.
What does this mean for franchise sales?  The goal of a franchise development team is to find buyers who match the "ideal persona" for successful franchisees in their system. But knowing something about how buyers view the options can be helpful, in marketing messages as well as qualifying conversations.
The two segments mentioned above are not mutually exclusive – there is overlap. Since the buyers self-select for franchises of interest, their preferences will lead them to choices which their research tells them meet their needs. But a well-established franchise can tap into a broader group of buyers by providing information, for example, on the pandemic resilience of their particular offering. 
Similarly, an emerging franchise that features a flexible work schedule can increase its attractiveness to a broader group of buyers by strengthening or highlighting its systems and technology platform, for example.
FranchiseInsights.com compiles monthly the Small Business Startup Sentiment Index™ (SSI) of individuals who have recently inquired about businesses for sale.The most recent Startup Sentiment Index™ survey was conducted February 24-28, 2022. 
Download a copy of the February 2022 FranchiseInsights.com SSI report here. See excerpts from prior SSI™ surveys and subscribe to receive the Small Business Startup Sentiment Index™ monthly report when it is released.
The Small Business Startup Sentiment Index™ is based on a monthly survey of individuals who have recently inquired about businesses or franchises for sale on the digital assets of FranchiseVentures.
FranchiseVentures is the leading demand– and lead-generation platform for potential franchisees to thousands of growing franchise systems in the United States and Canada. Its franchise lead generation brands include Franchise.com, Franchise Solutions, Franchise Gator, Franchise Opportunities, Franchise For Sale, SmallBusinessStartup.com and BusinessBroker.net, and together they provide the largest aggregation of prospective franchise buyers in the U.S.
Interested in more insights from our proprietary data set? Subscribe to our email newsletter below, or follow us on LinkedIn.

Published on Wednesday, March 23rd, 2022.