Franchise Prospects Report Higher Contact Attempt Rates in 2020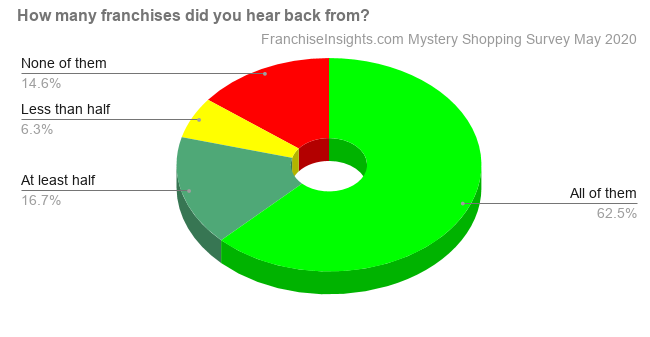 May 21, 2020 – According to a May survey of interested franchise buyers, more franchisors are consistently following through with each inquiry and attempting to make contact. 
In May, 62.5% of respondents report being contacted by each of the one or more franchises to which they inquired. This is all the more important, considering that over 46% of prospective buyers inquired to only a single franchise concept in April.
The May data was the second best yet for 2020, with 79.2% of prospects reporting that they heard from either "all of" or "at least half" of the franchise brands from which they requested information. That is just below the highest reported last month, with 81.6% of prospects in April reporting they heard from either "all of" or "at least half" of the franchises they requested information from. The chart below shows the contact attempt rate gradually improving in 2020 by month.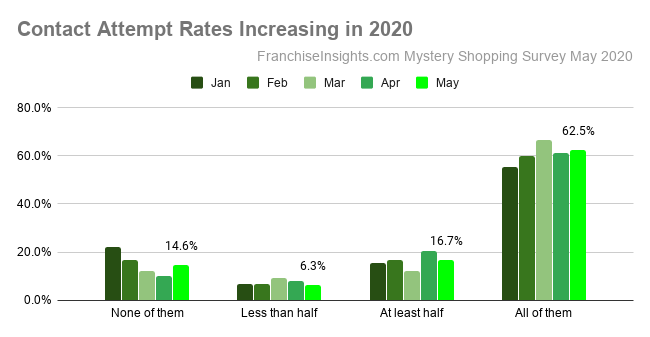 As unlikely as it would seem, not all prospective buyers are contacted. One likely reason is that 67% of inquiries are made outside of the business hours of franchise development teams given differences in time zones. For its 2019 annual review of best practices for franchise development teams, Franchise Update Media commissioned a mystery shop that showed similarly surprising results. In that study, only 46% of franchisors called prospects who had submitted an inquiry about their brand. 
The "Mystery Shop" survey is conducted monthly by FranchiseInsights.com from a sample of franchise inquirers across the FranchiseVentures lead generation platform. The latest data is from the week of May 18, 2020.
FranchiseVentures is the leading demand– and lead-generation platform for potential franchisees to thousands of growing franchise systems in the United States and Canada. Its franchise lead generation brands include Franchise.com, Franchise Solutions, Franchise Gator, Franchise Opportunities, Franchise For Sale, SmallBusinessStartup.com and BusinessBroker.net, and together they provide the largest aggregation of prospective franchise buyers in the U.S.
Interested in more insights from our proprietary data set? Subscribe to our email newsletter below, or follow us on LinkedIn.

Published on Thursday, May 21st, 2020.