Update on Decline in Facebook (Meta) Franchise Lead Generation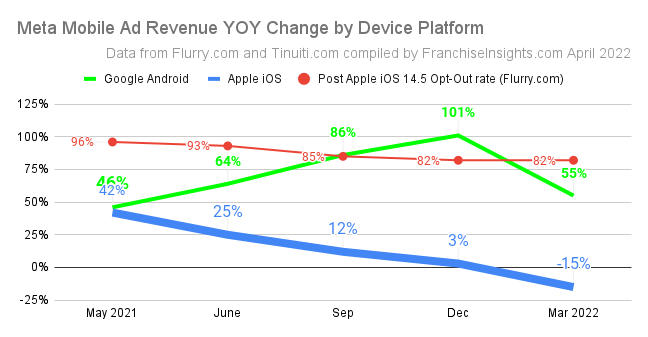 May 18, 2022 — Since February 2022 when we last wrote about the decline in Facebook (Meta) Lead Generation after Apple's iOS 14.5 release, three more months of data show that advertisers for lead generation shouldn't expect results to improve any time soon. Meta's own CFO estimates that consumers opting out of tracking will cost the company $10 billion in advertising in 2022. Ironically, Apple's privacy initiative contributes to its own soaring ad revenues.
The introduction of Apple's iOS 14.5 "App Tracking Transparency" initiatives to limit tracking across apps  in April 2021 led to a steady downtrend in ad impressions across Meta's platform, declining 15% in Q4 2021 and down another 17% in Q2 2022, across the large advertising customer base of performance marketing company Tinuiti1. While the "opt-out rate" (one minus the op-in rate) reported by app measurement company Flurry2 stabilized in Q1 2022, it continues to show that 82% of Apple iOS US users were opting to deny tracking across apps. 
But just like the prior quarter, overall Meta mobile advertising still grew 10% in Q1 2022 year over year (vs. 32% in Q4) according to Tinuiti, despite the impression volume shrinkage. How did they continue to grow revenue? Two ways.
First, ad impressions on the Meta platform were 33% more expensive in Q1 2022 than the same quarter of 2021 (Instagram CPM alone was up 64%) according to the Tinuiti report1. 
 Second, as the chart shows, mobile ad revenues from users on the Android platform continued to grow in Q1 2022. This is due to the fact that Google is not currently offering users the option to block tracking, though they announced that they will begin blocking advertiser access to data across apps in late 2023, this in addition to their previously announced plan to eliminate 3rd party cookies from their Chrome browser beginning mid-2023.
So what does the future hold for franchise lead generation from Facebook and Instagram?
Without a doubt, franchise leads generated from Facebook face inevitable decline as the lion's share of users block tracking across apps which results in decreased targeting and tracking of Meta Platforms. This will no doubt accelerate in 2023 with Google's announced changes to its Android app store. But both companies claim to be working on their own solutions to meet both the needs for consumer privacy and advertiser effectiveness, and Google is moving very slowly (it's nice to own your own distribution network), with a multi-year timeline subject to change.
The robust conclusion is that franchises should cherish and nurture the sources that are capable of reliably providing leads today, and continue to look for new sources, as dependence on any single source is risky. 
1Tuniti is a performance marketing company which also provides data "based on anonymized [client] performance data from Facebook programs…with annual digital ad spend under management totaling over $3 billion." Their complete report is available here.
2 App tracking company Flurry defines opt-in rate as 'Authorized' divided by ('Authorized' + 'Denied'), where "authorized" is the number of users who allow tracking across apps, and "denied" is the number who don't.
FranchiseVentures is the leading demand– and lead-generation platform for potential franchisees to thousands of growing franchise systems in the United States and Canada. Its franchise lead generation brands include Franchise.com, Franchise Solutions, Franchise Gator, Franchise Opportunities, Franchise For Sale, SmallBusinessStartup.com and BusinessBroker.net, and together they provide the largest aggregation of prospective franchise buyers in the U.S.
Interested in more insights from our proprietary data set? Subscribe to our email newsletter below, or follow us on LinkedIn.

Published on Wednesday, May 18th, 2022.