Why Franchise Leads Visit Franchisor Websites After Requesting More Information on Franchise Portals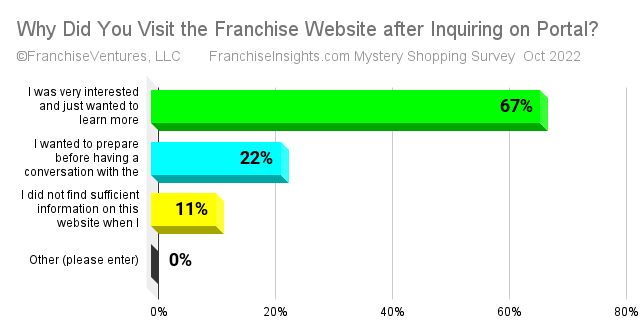 October 19, 2022 — A substantial flow of leads to franchise development sites comes from prospects originating on portal websites that are used to acquire franchise leads. In a recent article, we quantified from user surveys that 70% of prospects submitting an inquiry subsequently visited the franchise website, with 41% of those also submitting a lead at the franchise development website.
This is a substantial source of value beyond the cost of leads, considering that prospects who would take the time to research a franchise and visit the site are showing a level of interest and intent conducive to more productive conversations with franchise representatives.
This behavior begs the question – why? In October, we surveyed prospects who submitted an inquiry AND also visited the franchise websites afterward. 
The results show a clear answer. Given three choices and the opportunity to enter their own "other" reason, two thirds indicated that they are "very interested and just wanted to learn more." Another 22.2% "wanted to prepare before having a conversation with the franchise representative." Only 11% said they "did not find sufficient information on this [portal] website when I inquired", which is affirming, since portals are designed to offer only limited information so that qualified prospects do not eliminate themselves.
None of the survey respondents provided an "other" response.
This significant referral or pass-along value is explained here. These very interested prospects get attributed to the franchise website, even though they originated on the portal. This is a very good thing, though it may lead to the mis-attribution of interested prospects to the "last touch" rather than the portal which was the source of the lead.
Summary: Franchise portals drive interested prospects to your franchise development website, in addition to franchise leads they provide directly.
The "Mystery Shop" survey is conducted monthly by FranchiseInsights.com from a sample of franchise inquirers across the FranchiseVentures franchise lead generation platform. The data presented here is from October 2022.
FranchiseVentures is the leading demand– and lead-generation platform for potential franchisees to thousands of growing franchise systems in the United States and Canada. Its franchise lead generation brands include Franchise.com, Franchise Solutions, Franchise Gator, Franchise Opportunities, Franchise For Sale, SmallBusinessStartup.com and BusinessBroker.net, and together they provide the largest aggregation of prospective franchise buyers in the U.S.
Interested in more insights from our proprietary data set? Subscribe to our email newsletter below, or follow us on LinkedIn.

Published on Wednesday, October 19th, 2022.