Boomers Lead Potential Business Buyers in Resources for Funding New Franchises
May 11, 2020 – Baby Boomers interested in buying franchises may not claim the same high growth rates of Millennial and Gen X entrepreneurs, but the sizable Boomer segment holds an attractive lead in assets to fund new franchise businesses.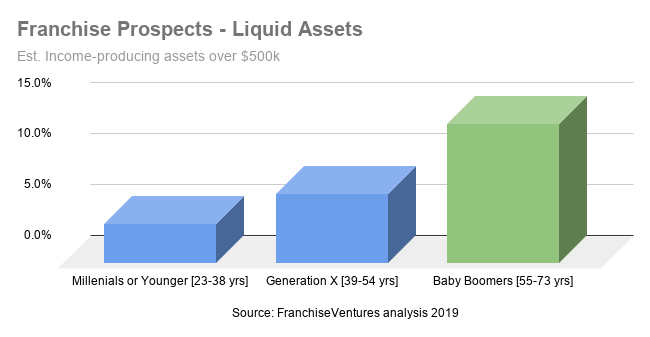 Baby Boomers accounted for 27% of prospects contacting franchisors through the FranchiseVentures demand-generation platform in 2019. Here is a demographic profile of the 55- to 73-year-old cohort, based on 2019 data:
Boomer prospects led other major age groups for liquid assets, with 13.7% owning

more than $500,000 in estimated income-producing assets.

That indexes 67% above average. Another 38.6% own more than $75,000 to $500,000 in estimated assets, which indexes 35% above average.

Boomers also indexed above average for estimated

household income

, with 40.5% earning $100,000 or more a year. That indexes 10% higher than the average.

Homeownership increases with age, and 82% of the 55- to 73-year-old prospects

own their own homes.

Estimated

home value

exceeds $500,000 for 16.8% of this group, the highest among all cohorts at 13% above average.

Boomer-aged prospects mirrored overall trends for the

most popular categories of franchises

, with

Food and Restaurants

accounting for nearly 20% of their inquiries,

Home Services

16% and

Business Services

12%. They also showed higher-than-average interest in several categories, contacting

Senior and Health  Care

franchises 7% more than average,

Business Services

7% more than average,

Pet Services

6% more than average, and

Automotive

franchises 5% more than average.
For this analysis, Franchise Insights combined proprietary data from the FranchiseVentures' demand-generation platform with demographic data from Alliant, a leading provider of U.S. consumer audience targeting and data enrichment and predictive analytics.
FranchiseVentures is the leading demand– and lead-generation platform for potential franchisees to thousands of growing franchise systems in the United States and Canada. Its franchise lead generation brands include Franchise.com, Franchise Solutions, Franchise Gator, Franchise Opportunities, Franchise For Sale, SmallBusinessStartup.com and BusinessBroker.net, and together they provide the largest aggregation of prospective franchise buyers in the U.S.
Interested in more insights from our proprietary data set? Subscribe to our email newsletter below, or follow us on LinkedIn.

Published on Monday, May 11th, 2020.