Coronavirus Drives More Interest in Some Franchise Categories, Less in Others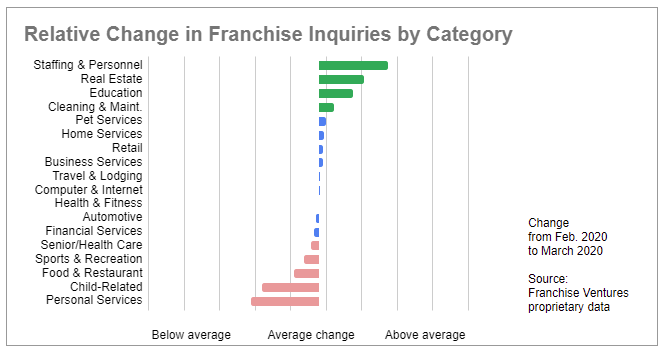 April 10, 2020 – As the sudden spread of coronavirus has changed so many aspects of daily business and personal life in recent weeks, entrepreneurial interest in different types of franchises has shifted as well. Franchise Insights examined how investment inquiries for different categories changed from February to March, and it seems that potential franchisees are mindful of both social distancing and increased opportunities during this pandemic.
Staffing and Personnel

,

Cleaning and Maintenance

, 

Real Estate

and

Education

categories exhibited the most relative growth, compared to the monthly average. An increased need for

Cleaning Services

seems self-evident at this time, and potential franchisees may be betting that many companies will need additional personnel services in the months ahead, as hiring rebounds. The 

Real Estate

category growth was driven by property management concepts.

Education franchises

include tutoring and options for engaging and entertaining kids outside of schools. Clearly, inquirers are looking beyond the window of social distancing.

One category with  both a growing need and social distancing concerns is

Senior and Health Care

, which decreased in interest at the higher-end of the "below average" categories. The closing of some nursing home facilities will undoubtedly increase the need for in-home care.

Social distancing seems to be a common theme for categories that lagged below the average.

Personal Services

, such as grooming and spas, and

Child-related Services

lagged the most, followed by categories that draw a crowd –

Food and Restaurants

, and

Sports and Recreation

.
FranchiseVentures is the leading demand– and lead-generation platform for potential franchisees to thousands of growing franchise systems in the United States and Canada. Its franchise lead generation brands include Franchise.com, Franchise Solutions, Franchise Gator, Franchise Opportunities, Franchise For Sale, SmallBusinessStartup.com and BusinessBroker.net, and together they provide the largest aggregation of prospective franchise buyers in the U.S.
Interested in more insights from our proprietary data set? Subscribe to our email newsletter below, or follow us on LinkedIn.

Published on Friday, April 10th, 2020.