Franchise Inquiries Rise in Most Categories as States Reopen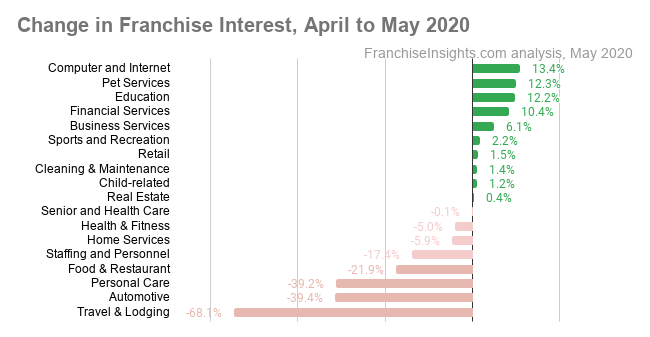 June 11, 2020 – After months of economic uncertainty driven by the coronavirus, investment interest rose in May in most franchise categories in the United States.
While the most growth occurred in categories that are less affected by mandated closures and social distancing, even some categories more directly affected by the pandemic saw positive signs as the average number of inquiries per franchise grew from April to May 2020.
Franchise Categories Showing the Most Growth
Computer and Internet franchises

grew the most in May, posting a 13.4% gain to franchises offering computer and cell phone repair, digital marketing services, and B2B IT services. Also, franchises in this category received 13.6% more inquiries per franchise from April to May.

Pet Services franchises

and

Education franchises

were close behind, each logging over 12% gain in investment inquiries. Education-related franchises logged the highest increase in inquiries per franchise in May, at 35.6%.

Financial Services franchises

and

Business Services franchises

also were relatively strong, with above average increases of 10.4% and 6.1%, respectively. 

Sports and Recreation franchises

,

Retail franchises

and

Cleaning franchises

also posted modest monthly gains of 2.2%, 1.5% and 1.4%, respectively.
Active Franchises in Some Hardest-Hit Categories showed Higher Number of Inquiries
The largest declines came in categories sensitive to social distancing, and in some cases this simply reflects franchises that have reduced recruitment efforts during the worst of the pandemic. Fewer choices in a category actually increased lead flow to the active franchise choices.
Health and Fitness

as a category showed a modest overall decline in inquiries, but the franchises in that category saw an 18.8% increase in inquiries. 

The

Food and Restaurant franchise

category also saw total investment inquiries fall from April to May, due in part to fewer franchises recruiting. But investor interest remained strong enough that franchises that continued to recruit captured a greater number of prospective franchisees – the average Food and Restaurant franchise was contacted by 9.4% more prospects from April to May.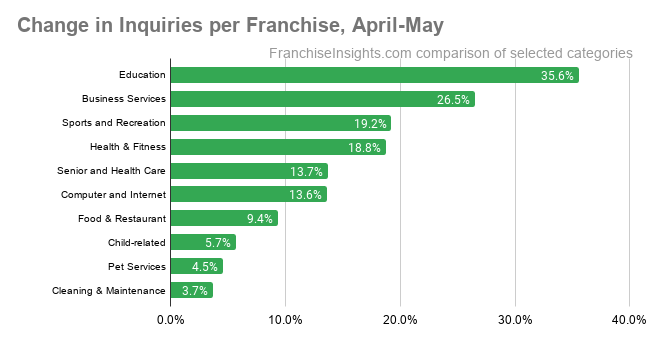 Automotive and Staffing show Counter-Trend Decreases in May
Some of the monthly changes depart from more significant multi-month trends. 
Staffing and Personnel franchises

is one category that fell in May but shows overall growth for the past three months – since February, Staffing franchise inquiries are up 58%, almost twice the relative interest of other categories. (+92% higher than average)

The

Automotive franchise

category also fell in May, but that follows a 52% surge in inquiries from March to April – on balance, Automotive interest from February to May has been 13.5% higher than average. This category includes franchises providing oil changes, transmissions and tune-ups, tires, paint and body work, and even car washes – essential services in all economic climates.

Other hard-hit categories, like Food and Restaurant franchises and Personal Care franchises, saw last month decline at a slower rate than the three-month trend.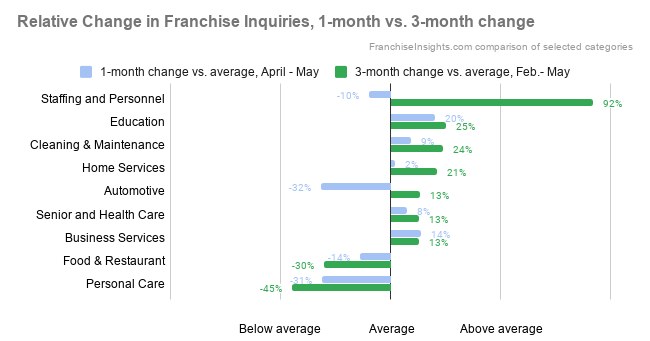 While many franchises expect growth to resume as cities and states reopen their economies, the timeline is less certain for some travel segments, like vacation and cruise planning. So it is no surprise that Travel-related franchises saw the greatest drop in inquiries in May, as only a handful of franchises were actively recruiting.
FranchiseVentures is the leading demand– and lead-generation platform for potential franchisees to thousands of growing franchise systems in the United States and Canada. Its franchise lead generation brands include Franchise.com, Franchise Solutions, Franchise Gator, Franchise Opportunities, Franchise For Sale, SmallBusinessStartup.com and BusinessBroker.net, and together they provide the largest aggregation of prospective franchise buyers in the U.S.
Interested in more insights from our proprietary data set? Subscribe to our email newsletter below, or follow us on LinkedIn.

Published on Thursday, June 11th, 2020.