Women Outpace Men Among Gen X Franchise Prospects
Interest in owning a franchise is balanced almost equally between women and men overall, according to the latest small business analysis by Franchise Ventures — and women are starting to outpace men among Gen X prospects. 
"We don't see a glass ceiling when it comes to interest in buying a franchise," said Michael Alston, president of Franchise Ventures, "The proportion of prospects who want to own their own business has reached near parity over the past seven quarters."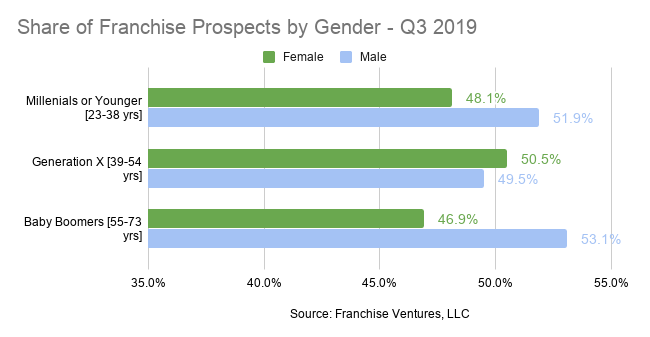 In Q3 2019, women accounted for 49.2% of all prospects contacting franchises for potential ownership, while men accounted for 50.8%. But the gender ratio is shifting in the largest group of prospects. 
Generation X, ages 39-54, saw more women than men contacting franchisors, with 50.5% of inquiries coming from women, and 49.5% from men.

Gen X was also the largest group of potential franchise buyers

in the Q3 analysis, which balanced out gender ratios in other age groups.

Millennials, ages 23-38, saw 48.1% of franchise inquiries from women and 51.9% from men. 

Baby Boomers, ages 55-73, had a wider gender gap, with 46.9% women and 53.1% men.
For this analysis, Franchise Ventures combined its pool of investment inquiries with demographic data from Alliant, a leading provider of US demographic and consumer data. Franchise Ventures is the leading demand generation platform for potential franchisees to thousands of growing franchise systems in the United States and Canada, with franchise lead-generation business that include Franchise.com, Franchise Solutions, Franchise Gator, Franchise Opportunities, Franchise For Sale, and BusinessBroker.net.


Published on Tuesday, November 5th, 2019.