Decline in Facebook(Meta) Franchise Lead Generation Explained. Now What?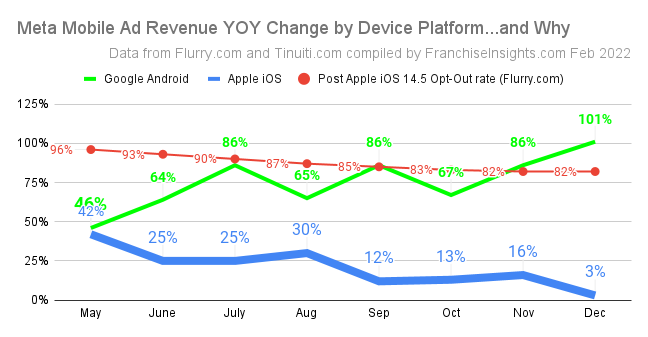 February 23, 2022 — If you have not heard about the $300 billion drop in the market value in Meta Platforms (formerly known as Facebook), perhaps it is because you have had to work double-time to mitigate the volume dip and effective cost of franchise leads to achieve your franchise system growth goals. 
The introduction of Apple's iOS 14.5 privacy initiatives to limit tracking across apps  in April 2021 led to a steady decline in the growth rate of Meta's total advertising revenue in 20211, according to performance marketing company Tinuiti.  While the "opt-out rate" (one minus the op-in rate reported by Flurry2) declined through 2021, it still shows that 82% of Apple iOS users were opting to deny tracking across apps. And let's not forget the significant outage Facebook suffered in October 2021 and its impact on franchise lead generation.
But wait – Overall Meta mobile advertising grew 33% in Q3 and 32% in Q4 according to Tinuiti, while impression volume shrank. How did they continue to grow revenue? Two reasons.
First, "ad impressions on Facebook were 54% more expensive in Q4 2021 than Q4 2019" from the Tinuiti report1.
 Second, as the chart shows, mobile ad revenues from users on the Android platform grew throughout the year, ending December 2021 at more than double the previous year. This is due to the fact that Google is not currently promoting the option to block tracking, though they announced that they will begin blocking advertiser access to data across apps in 2023, this in addition to their previously announced plan to eliminate 3rd party cookies from their Chrome browser beginning mid-2023.
So what does the future hold for franchise lead generation from Facebook and Instagram?
Without a doubt, franchise leads generated from Facebook face inevitable decline as the lion's share of users block tracking across apps which results in decreased targeting and tracking of Meta Platforms. Costs for leads from Facebook will rise, and targeting capabilities will be diminished. This will accelerate in 2023 with Google's announced changes. But the company overcame the shift to mobile app browsing and apps with the purchase of Instagram for $1billion in 2012, and an announced strategic pivot in 2013 that led to years of rapid growth to challenge Google for the number one spot in digital advertising market share.
But unlike 2013, in late 2021 Forrester Research reported more Gen-Z social media users (12-17) visiting TikTok than Instagram for the first time ever, putting Meta in a race from behind as it launches its "stories" feature globally this month. Reports about TikTok gains and slower growth reported by the company reduced Meta's market cap by around $300 billion since the earnings announcement on February 2.
The robust conclusion is that franchises should cherish and nurture (optimize) the sources that are capable of reliably providing leads today, and continue to look for new sources, as dependence on any single source is risky. 
1Tuniti is a performance marketing company which also provides data "based on anonymized [client] performance data from Facebook programs…with annual digital ad spend under management totaling over $3 billion." Their complete report is available here.
2 App tracking company Flurry defines opt-in rate as 'Authorized' divided by ('Authorized' + 'Denied'), where "authorized" is the number of users who allow tracking across apps, and "denied" the number who don't.
FranchiseVentures is the leading demand– and lead-generation platform for potential franchisees to thousands of growing franchise systems in the United States and Canada. Its franchise lead generation brands include Franchise.com, Franchise Solutions, Franchise Gator, Franchise Opportunities, Franchise For Sale, SmallBusinessStartup.com and BusinessBroker.net, and together they provide the largest aggregation of prospective franchise buyers in the U.S.
Interested in more insights from our proprietary data set? Subscribe to our email newsletter below, or follow us on LinkedIn.

Published on Wednesday, February 23rd, 2022.