Impact of Facebook's Outage on Franchise Lead Generation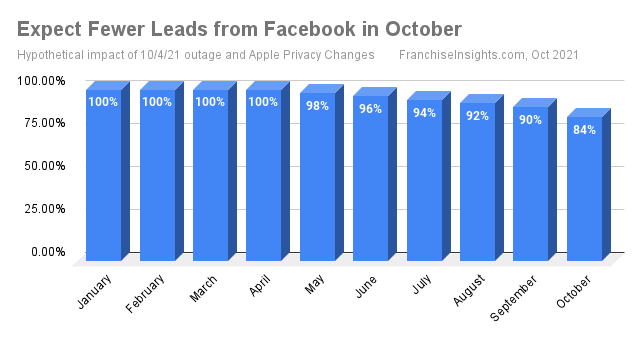 October 13, 2021 — Over the past few years, paid Facebook advertising has become an attractive source of paid franchise leads for development teams, given its broad reach and extensive targeting options. But 2021 has become a challenging year for this resource.
On Monday, October 4th beginning just before 12 pm Eastern time, Facebook and other apps on the Facebook platform (Instagram, WhatsApp, Facebook Messenger, etc) became inaccessible to users. The outage lasted until about 6pm Eastern time. 
A six-hour outage out of the 744 hours in the month of October means that you should expect a 0.8% decrease in leads from Facebook when you look at your lead generation source data for October. But proprietary data from the FranchiseVentures group of lead generation brands shows that those hours of the day on average (adjusting for time zones) actually represent about 30.84% of all franchise inquiries received, meaning that the real impact is closer to 0.995% (30.84% multiplied by 1/31 days in the month) — or just 1%.
But if you also add in the impact of Apple's iOS 15 privacy changes, estimated by Facebook representatives at about 15% and growing as iPhone users upgrade to iOS 15, you should expect at least a 16% decrease in results for Facebook in October 2021 compared to prior months (or October of last year) for the same budget, creative and targeting selections.
What does that cost you? Apply your own leads to sales conversion rate to get the number of "lost sales", and multiply that times your own estimate for franchise fees and future royalties, and subtract the Facebook advertising budget you saved during the six hour outage.
Back of the envelope, if you have been generating a lot of leads on Facebook, that's probably a consequential dollar figure for your franchise. If it is any consolation, Mark Zuckerberg's wealth went down by about $6 billion that day given the outage and concerns arising from the congressional testimony of employee-turned-whistleblower Frances Haugen.
So…in a different spin on the poem by Joseph Parry (1841-1903, before Facebook) "Make new [lead sources] but keep the old…one is silver, and the other [tried-and-true ones] are gold."  You never know when Facebook or any other single source will hiccup.
FranchiseVentures is the leading demand– and lead-generation platform for potential franchisees to thousands of growing franchise systems in the United States and Canada. Its franchise lead generation brands include Franchise.com, Franchise Solutions, Franchise Gator, Franchise Opportunities, Franchise For Sale, SmallBusinessStartup.com and BusinessBroker.net, and together they provide the largest aggregation of prospective franchise buyers in the U.S.
Interested in more insights from our proprietary data set? Subscribe to our email newsletter below, or follow us on LinkedIn.

Published on Wednesday, October 13th, 2021.