Despite Advertising Recession, Google Drives Up Franchise Lead Generation Costs Impressively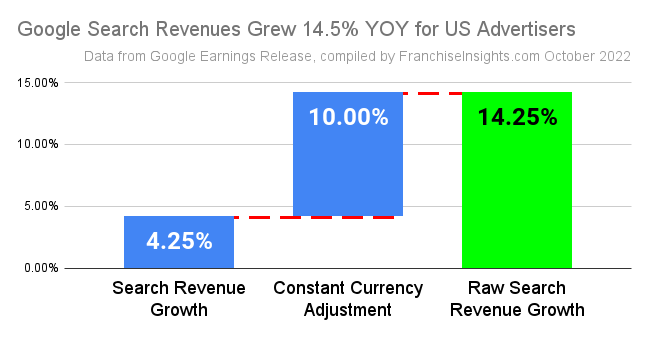 October 26, 2022 — While the headlines are about an "advertising recession" underway, with Meta to provide even more insight in its earnings report today, Google's earnings release yesterday explains the pain felt by franchise development teams over the last year.
The reported growth in Google global search revenues of 4.25% understates the impact of higher search costs borne by franchise lead generation cost-per-click programs for two reasons:
The 4.25%

global

growth is likely much lower than growth in the US which has suffered less economic contraction than many other countries. US growth is likely higher.

More significantly, without Google's revenues being corrected (per GAAP) for the unusually strong US dollar, that growth would have been over 14%.  GAAP requires that Google report "constant currency" revenues, adjusting for exchange rates. US advertisers wouldn't "feel" the impact of currency adjustments when buying in US dollars.
The pain was even greater if Google's search volume grew slower than its search revenues – meaning that the cost per click or cost per lead would have gone up even higher. Given all the headlines about businesses cutting back on advertising, it is very likely that costs per click rose. Search volume change information was not available at this writing.
How did Google manage to grow search revenues in the face of a global recession? One answer may be the ongoing decline of results from Facebook and Instagram which may become clearer this afternoon, and the subject of a follow-up analysis.
Further, the economic headwinds have not deterred franchise system owners from pursuing their 2022 growth plans. So competition in Google for a smaller number of "clicks" means one thing – higher prices.
What can franchise advertisers do about this? We continue to offer suggestions on franchise development lead generation best practices, and will provide additional concrete ideas in the weeks ahead.
FranchiseVentures is the leading demand– and lead-generation platform for potential franchisees to thousands of growing franchise systems in the United States and Canada. Its franchise lead generation brands include Franchise.com, Franchise Solutions, Franchise Gator, Franchise Opportunities, Franchise For Sale, SmallBusinessStartup.com and BusinessBroker.net, and together they provide the largest aggregation of prospective franchise buyers in the U.S.
Interested in more insights from our proprietary data set? Subscribe to our email newsletter below, or follow us on LinkedIn.

Published on Wednesday, October 26th, 2022.