Franchisors Adapt Budgets to Coronavirus Impact in March
April 16, 2020 – A comparative analysis of February and March advertising spending of FranchiseVentures clients revealed a spectrum of mindsets toward development investments, as brands contended with the financial and operational challenges wrought by the coronavirus.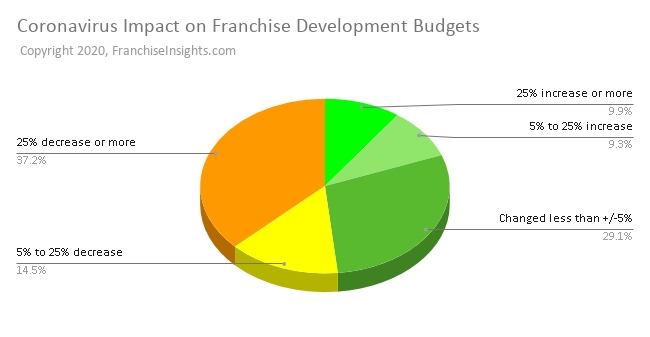 The two determinants of spending are 1) budget, and 2) the availability of leads (buyer demand). Some of the changes seen were more driven by changes in buyer demand and the availability of 
leads.
Increased spending

– Based on the data, 19.6% of clients increased spending between February and March. These clients were in a variety of categories, including ones less affected by social distancing. This group also includes franchisors initiating a lead gen program during February that grew in March. Further, 8.5% of clients started or resumed a program that was inactive in February.

Same or similar level of spending –

Over 29% of franchises had levels of spending in March that were within plus or minus 5% of February.

Reduced spending

– 55.9% of clients had lower spending in March, including 37.2% whose spending decreased by 25% or more.

Paused spending

– In March, 9.7% of clients who were active in February put their advertising programs on hold. 
We are hearing first hand the impact of the pandemic on our customers and the franchise industry, and our business suffers along with them. The demand for franchises, however, continues at its own pace, propelled by the interest of buyers looking past the crisis. We will continue to help our customers make adjustments and stand ready to help those who are able to grow or return to normal development efforts.
FranchiseVentures is the leading demand– and lead-generation platform for potential franchisees to thousands of growing franchise systems in the United States and Canada. Its franchise lead generation brands include Franchise.com, Franchise Solutions, Franchise Gator, Franchise Opportunities, Franchise For Sale, SmallBusinessStartup.com and BusinessBroker.net, and together they provide the largest aggregation of prospective franchise buyers in the U.S.
Interested in more insights from our proprietary data set? Subscribe to our email newsletter below, or follow us on LinkedIn.

Published on Thursday, April 16th, 2020.