New Mobile App Helps Franchise Development Teams Improve Contact Rates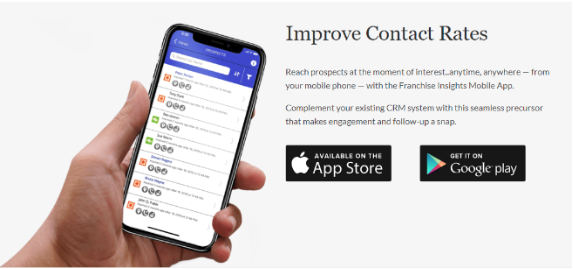 Norfolk, Virginia, February 7, 2020 — Franchise Ventures released a new tool to help franchise development teams improve early engagement  with prospective franchisees. The Franchise Insights mobile app makes it easier to quickly respond to new prospects, and helps unify each prospect conversation across phone, email and text.
"The mobile app helps franchise development teams respond quickly and appropriately to new prospects as a complement to CRM systems," said Matt Alden, GM of Franchise.com Network. "Over 67% of franchise inquiries occur outside of normal business hours or in different time zones for development teams" observed Matt Maxwell, GM of Franchise Opportunities Network, referring to a recent study.
"The Franchise Insights app tackles that problem by putting all of the information in the palm of your hand," says  Eric Bell, GM at Franchise Gator. "We make it easier to stay organized and track multiple conversations with each prospect, anytime and anywhere."   
The SaaS platform has been in beta testing for the past year on both Android and iOS, and is now available free of charge to clients of Franchise.com Network, Franchise Opportunities Network, and Franchise Gator.
Key benefits are improved contact rates and instant connection with prospects. Features include: 
Timely

: Real-time alerts as new franchise leads are received from multiple sources

Convenient

: Respond quickly, anytime/anywhere 

Versatile

: Three different channels of communication (text, phone, email) without having to be in front of a computer

Organized

: Prospect texts not mixed in with sales teams' personal messages

Simple

: All communication managed in one device. Text messages, emails and phone call notes in one place for each prospect
The Franchise Insights app is available for download in the IOS App Store and Google Play Store.
Come see the app in action at booths 317, 803 and 2232 at IFA 2020!
FranchiseVentures is the leading demand– and lead-generation platform for potential franchisees to thousands of growing franchise systems in the United States and Canada. Its franchise lead generation brands include Franchise.com, Franchise Solutions, Franchise Gator, Franchise Opportunities, Franchise For Sale, SmallBusinessStartup.com and BusinessBroker.net, and together they provide the largest aggregation of prospective franchise buyers in the U.S.
Interested in more insights from our proprietary data set? Subscribe to our email newsletter below, or follow us on LinkedIn.

Published on Friday, February 7th, 2020.