As Pandemic Continues, Aspiring Franchisees Are Focusing Their Consideration on One or Two Concepts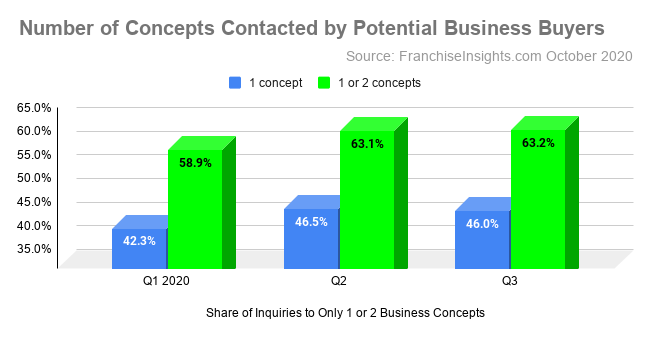 October 8, 2020 – One clear trend this year is that prospective franchise buyers have become more focused on one or two businesses during the discovery phase of their search. The share of prospects narrowing their research to one or two concepts in any given month rose from Q1 2020 to Q2, and remained higher through Q3. 
Researching multiple opportunities helps prospects understand franchising and business opportunities in general, and helps them select the right business opportunities to better meet their criteria. And franchise development teams appreciate a well-informed prospect who already meets key criteria, including focused interest for their particular brand. 
The share of prospects contacting

only one investment concept

rose from 42.3% in Q1 to 46.5% in Q2 this year, and held relatively steady at 46% in Q3.

The share of prospects making investment inquiries to

only one or two concepts

rose from 58.9% in Q1 to 63.1% in Q2, then held at 63.2% in Q3.
Another factor in the business-buying equation is how many businesses actually  respond to the prospective  buyers. Our most recent monthly survey of interested franchise buyers showed that only 55.6% of prospective buyers said they were contacted by each and every franchise to which they inquired. 
FranchiseVentures is the leading demand– and lead-generation platform for potential franchisees to thousands of growing franchise systems in the United States and Canada. Its franchise lead generation brands include Franchise.com, Franchise Solutions, Franchise Gator, Franchise Opportunities, Franchise For Sale, SmallBusinessStartup.com and BusinessBroker.net, and together they provide the largest aggregation of prospective franchise buyers in the U.S.
Interested in more insights from our proprietary data set? Subscribe to our email newsletter below, or follow us on LinkedIn.

Published on Thursday, October 8th, 2020.