Income Potential Ranks as No. 2 Motivation to Own a Business
While a desire to "by my own boss" is the No.1 motivation for people thinking about buying a business, the potential to earn more money ranks a strong No. 2, according to the business-buyer survey across the Franchise Ventures demand generation platform.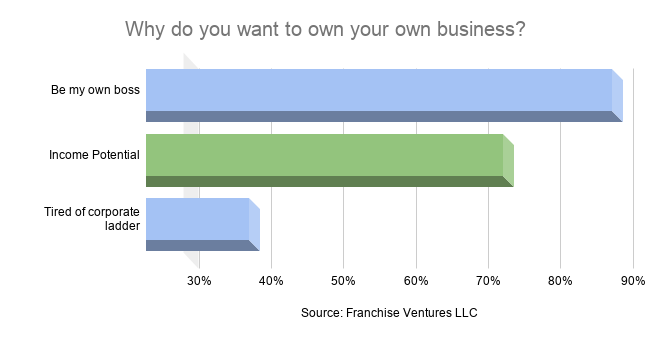 Nearly three-quarters of respondents, or 72.5%, cite "income potential" as one of their top reasons for thinking about starting or buying a business.

That's the second largest response, after "be my own boss", but the two may be closely linked. More than 90 percent of the "income potential" answers also included "Be my own boss." 

The survey allowed multiple responses, and potential income was the sole motivation for only 14% of respondents.
"Entrepreneurs have a strong desire to control their financial destiny," said Michael Alston, president of Franchise Ventures, "and they are confident that being in charge of their own business efforts will pay off."
Want to know how the other motivations ranked? Click Subscribe in the menu to sign up for our email newsletter, or follow us on LinkedIn.
Franchise Ventures is the leading demand generation platform for potential franchisees to thousands of growing franchise systems in the United States and Canada, with franchise lead-generation business that include Franchise.com, Franchise Solutions, Franchise Gator, Franchise Opportunities, Franchise For Sale, and BusinessBroker.net. 

Published on Monday, November 25th, 2019.