One Third of Prospective Small-Business Buyers Ready to Switch From Corporate Life
More than one-third of potential business buyers are motivated by a desire to stop "climbing the corporate ladder," according to the survey across the Franchise Ventures demand generation platform. 
"In many cases, experienced managers and executives are ready to run their own show," said Michael Alston, president of Franchise Ventures. "That can be a huge benefit to franchisors who are looking for independent owners who can represent their brand well as they expand into new territories."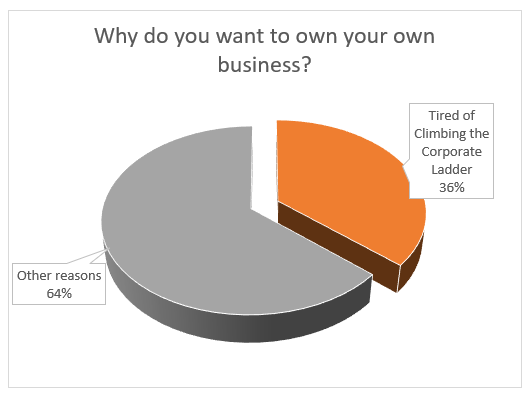 The survey allowed for multiple responses, and being "tired of climbing the corporate ladder" was almost never the only motivation given.
36.2% of respondents include "tired of climbing the corporate ladder" as one of their reasons to search for a business to buy.

97% of those respondents also said "Be my own boss" was a motivation.

Income Potential and Lifestyle Rewards were also strong factors, appealing to 92% and 89% of those considering a leap away from a larger organization.

Running a side business was cited by 77% of those who were tiring of corporate life.
Want to know how the other motivations ranked? Click Subscribe in the menu to sign up for our email newsletter, and we'll let you know when we release those results.
Franchise Ventures is the leading demand generation platform for potential franchisees to thousands of growing franchise systems in the United States and Canada, with franchise lead-generation business that include Franchise.com, Franchise Solutions, Franchise Gator, Franchise Opportunities, Franchise For Sale, and BusinessBroker.net.

Published on Monday, November 18th, 2019.