Surveys Say It's a Better Time to Buy a Franchise than a Home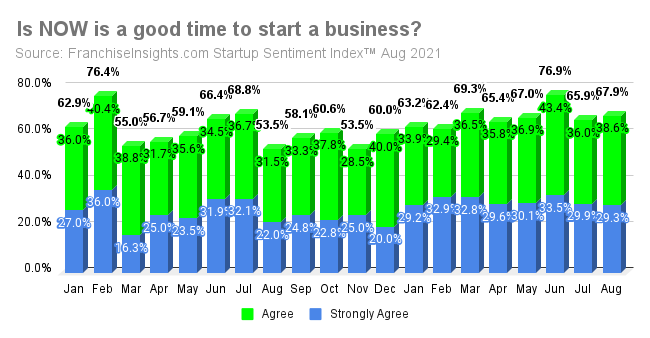 September 22, 2021 – Preliminary results from the University of Michigan's September 2021 survey of consumer confidence as reported by Business Insider show that the lowest percentage of consumers in four decades think that "now is a good time to buy a home." High prices and low inventory have taken a toll on consumer enthusiasm about a piece of the American Dream.
On the other hand, August's Franchise Insights Startup Sentiment survey — collected over a similar time period — showed that of individuals researching franchises, 67.9% agree or strongly agree that "now is a good time to start a business".
Why the difference? While higher prices and poor inventory for homes are well documented, perceptions about the environment for starting a business in the monthly sentiment survey have been relatively consistent and sanguine over the last 21 months, as seen in the nearby chart. Granted, the sentiment survey is conducted among individuals actively looking for franchises to own. This group actively looking would be expected to be more optimistic about current conditions than the general population.
With increasing vaccination rates, and for parents the return of in-person schooling and day care, clearly the environment is improving for launching a startup, and today's aspiring owners are ready to take the plunge.
The Startup Sentiment Index is conducted monthly by FranchiseInsights.com from a sample of franchise inquirers across the FranchiseVentures lead generation platform. The most recent data is from August 19-25, 2021.
FranchiseVentures is the leading demand– and lead-generation platform for potential franchisees to thousands of growing franchise systems in the United States and Canada. Its franchise lead generation brands include Franchise.com, Franchise Solutions, Franchise Gator, Franchise Opportunities, Franchise For Sale, SmallBusinessStartup.com and BusinessBroker.net, and together they provide the largest aggregation of prospective franchise buyers in the U.S.
Interested in more insights from our proprietary data set? Subscribe to our email newsletter below, or follow us on LinkedIn.

Published on Wednesday, September 22nd, 2021.