Potential Business Buyers Advance their Startup Timelines in October's Startup Sentiment Index™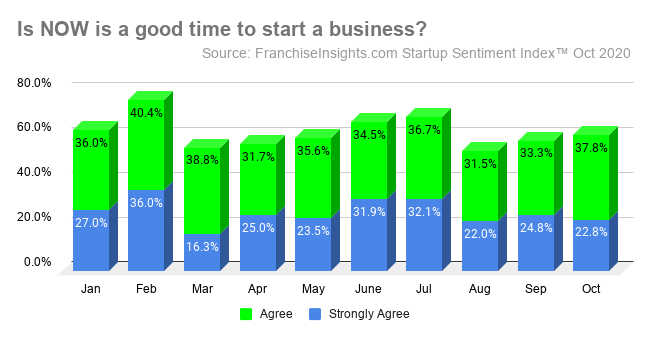 Nov. 12, 2020 – Entrepreneurial optimism rose for the third month in a row in October, as 60.6% of potential business buyers said that "now is a good time to start a business," in responses collected Oct 24-26 2020, for the monthly FranchiseInsights.com Small Business Startup Sentiment Index™ (SSI).
Answering a week before the presidential election, survey respondents shook off political uncertainty and increased pandemic cases to express their optimism and advanced timelines for business startup. Nearly 38% agreed that "now is a good time to start a business," and 22.8% strongly agreed.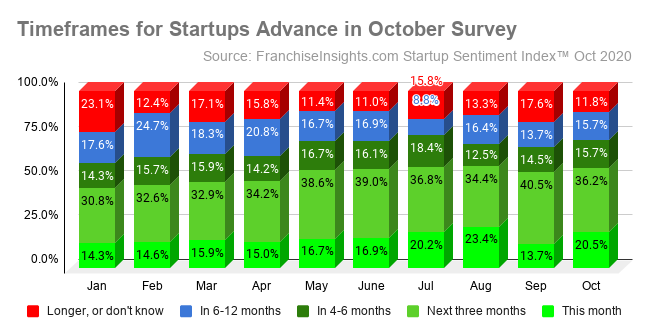 Readiness To Start a Business 'This Month' Rebounds 
Another indicator of growing optimism is a rebound in shorter time frames to open for business. When asked "when do you expect to buy or start a business?", 20.5% of respondents reported "this month" – the second-highest reading this year. That's an impressive 49.6% rebound from September's reading of 13.7%.
In fact, September's Small Business Startup Sentiment Index ™  had seen "one-month out" expectations drop sharply as "three-month out" startup plans surged to an all-time high. While it's not surprising to expect seasonal demand to grow with the new year,  October's survey suggests that some new business owners may not wait that long.
The Small Business Startup Sentiment Index™ is derived from a monthly survey of individuals who have recently inquired about businesses or franchises for sale on the digital assets of FranchiseVentures. 
FranchiseVentures is the leading demand– and lead-generation platform for potential franchisees to thousands of growing franchise systems in the United States and Canada. Its franchise lead generation brands include Franchise.com, Franchise Solutions, Franchise Gator, Franchise Opportunities, Franchise For Sale, SmallBusinessStartup.com and BusinessBroker.net, and together they provide the largest aggregation of prospective franchise buyers in the U.S.
Interested in more insights from our proprietary data set? Subscribe to our email newsletter below, or follow us on LinkedIn.

Published on Thursday, November 12th, 2020.