Prospective Franchisees Most Optimistic Since Onset of Pandemic Even as Concern over Future Conditions Rises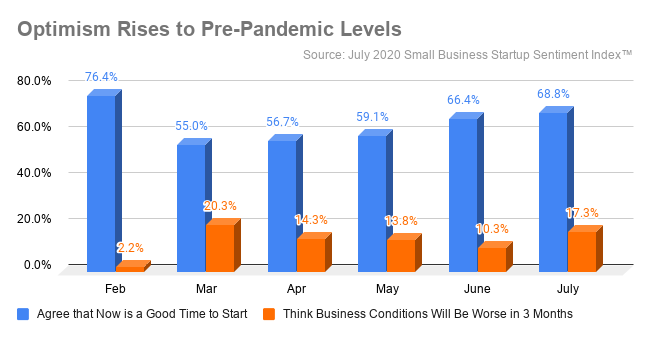 August 6, 2020 – July's Small Business Startup Sentiment Index™ showed the fourth consecutive month of increasing percentage of respondents who indicate that they "agree" or "strongly agree" that "now is a good time to start a business". In the most positive reading since February, almost 69% of respondents think that now is a good time. Granted, this is a survey of individuals seeking information about franchises and business options — perhaps inclined towards optimism — not a survey of the general population. 
The survey conducted by FranchiseInsights.com revealed, however, a counter-trend development in perceptions about the future business environment. For the first time since the emergence of Covid-19 in March, prospective small business owners displayed an uptick in concerns regarding general business conditions three months out. Indeed, 17.3% of respondents expressed greater concern, up from 10.3% in June. While a minority share this view, this is an indicator to watch in the coming months.
As discussed in an earlier article on the motivations behind business ownership, entrepreneurs possess a strong and unflinching desire to "be my own boss." If July's survey is any indication, the desire for independence and autonomy is so deeply entrenched in prospective small business owners that it outweighs even the uneasiness many might have about future business conditions. With plenty of uncertainty ahead, including the possibility of a second wave of Covid-19, an upcoming presidential election and the growing disconnect between Wall Street and Main Street, this display of entrepreneurial resolve is decidedly good news for growth-minded franchise systems.
The Small Business Startup Sentiment Index™ is based on a monthly survey of individuals who have recently inquired about businesses or franchises for sale on the digital assets of FranchiseVentures. 
FranchiseVentures is the leading demand– and lead-generation platform for potential franchisees to thousands of growing franchise systems in the United States and Canada. Its franchise lead generation brands include Franchise.com, Franchise Solutions, Franchise Gator, Franchise Opportunities, Franchise For Sale, SmallBusinessStartup.com and BusinessBroker.net, and together they provide the largest aggregation of prospective franchise buyers in the U.S.
Interested in more insights from our proprietary data set? Subscribe to our email newsletter below, or follow us on LinkedIn.

Published on Thursday, August 6th, 2020.