Small Business Startup Sentiment Index™ (SSI) Shows Growing Readiness in May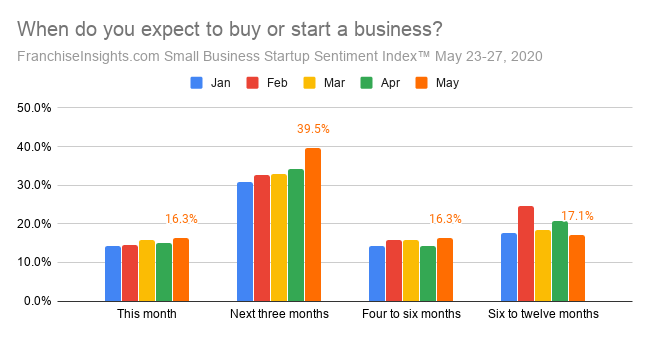 May 28, 2020 – The highest percentage of aspiring franchisees plan to open a business within the next three months than at any time in 2020. Data collected May 23-27, 2020, for the FranchiseInsights.com Small Business Startup Sentiment Index™ show that 39.5% of aspiring owners are planning to start a business in the next three months, up from 30.8% back in January. That is in addition to the 16.3% of respondents who expect to begin starting their businesses this month, for a total of 55.8% who intend to start within the next three months.

"We are seeing pent-up demand expressing itself as shorter time frames for investment" says Michael Alston, president of FranchiseVentures, which conducts the monthly survey. "This development corresponds with a recent uptick in consumer confidence and increasing willingness to begin a resumption of normal activities."
Only 10.9% of prospects see their business start out 12 months or longer, the smallest percentage this year, and down from 23.1% in January 2020.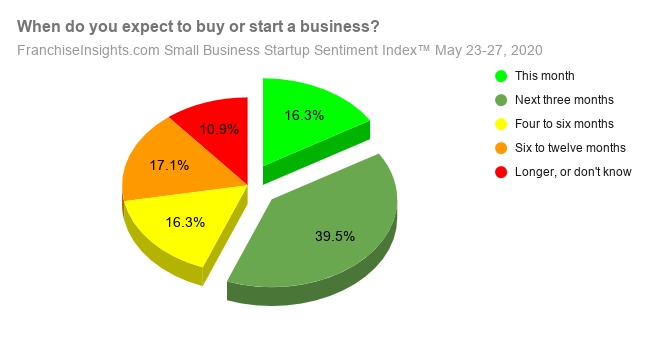 Is Now a Good Time to Start a Business?
Almost 61% agree or strongly agree that "now is a good time." This is the highest since the February percentage of 76.4% which was before Covid-19 social distancing and business interruptions began.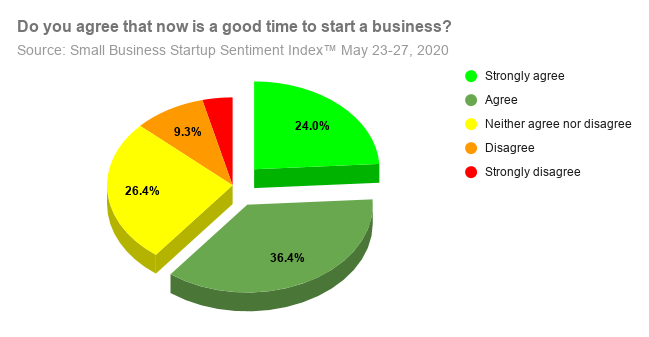 Business Outlook for Three Months from Now
Respondents are optimistic about business conditions three months ahead, roughly coincident with their expected time frames for starting their businesses. Almost 57% of respondents believe that in three months, business conditions will be "better" or "much better" than now.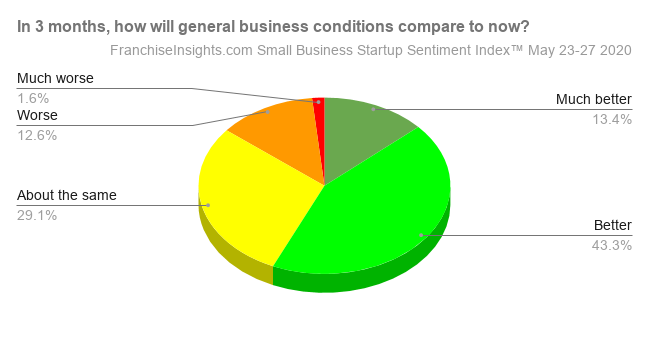 Covid-19 Impact on Startup Decision
The responses continue to reflect undaunted entrepreneurial spirit, as 9.4% report "no impact" and 36.5% report that the coronavirus disruption has actually increased the desire to control their destinies through business ownership. Only 8.8% of the respondents indicate plans to put their business startup search on hold, down from 19.2% in March 2020. Presumably due to the sharp recovery in financial markets, 13.8% of the respondents reported that they had less capital to invest at this time, less than half of the 28.7% reported in April.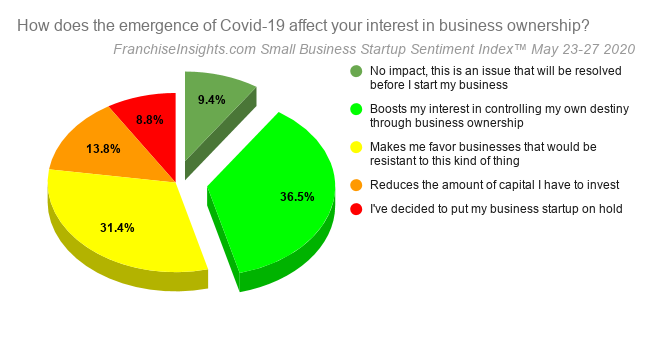 Access to Funding 
About 41% of aspiring owners identified funding or access to credit as a key factor in their decision to start a business. Their outlook regarding the funding climate in three months was flat with April readings, with only 26.7% expecting it to be "easier or much easier" to secure startup funding.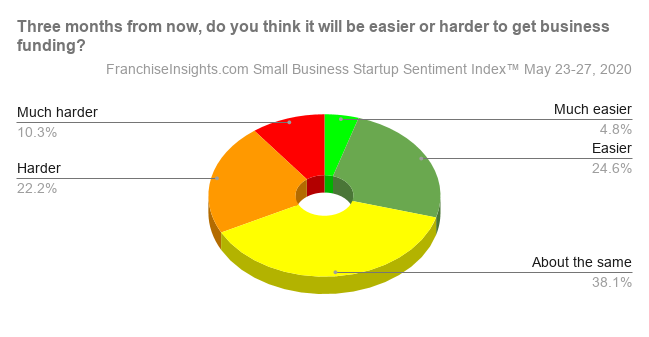 The Small Business Startup Sentiment Index™ is based on a monthly survey of individuals who have recently inquired about businesses or franchises for sale on the digital assets of FranchiseVentures. 
FranchiseVentures is the leading demand– and lead-generation platform for potential franchisees to thousands of growing franchise systems in the United States and Canada. Its franchise lead generation brands include Franchise.com, Franchise Solutions, Franchise Gator, Franchise Opportunities, Franchise For Sale, SmallBusinessStartup.com and BusinessBroker.net, and together they provide the largest aggregation of prospective franchise buyers in the U.S.
Interested in more insights from our proprietary data set? Subscribe to our email newsletter below, or follow us on LinkedIn.

Published on Thursday, May 28th, 2020.