August's Prospective Business Owners Display Highest Readiness Seen Yet in 2020
Has Business Buyers' Pandemic Pessimism Peaked?
Updated 12:24 p.m., Tuesday, Aug. 6, 2020


August 27, 2020 – In a strong sign of growing economic optimism amid the pandemic, responses collected August 20-26, 2020 for the FranchiseInsights.com Small Business Startup Sentiment Index™ revealed a new high point for buyer readiness in 2020. Over 23% of the aspiring business owners surveyed  indicated plans to buy or start a business "this month" — the fourth consecutive month of growth and a sharp increase over pre-Covid readings.
In another encouraging development, over 36% of August respondents indicated they are  "more likely to start a business now than three months ago" — the third consecutive monthly increase. Accordingly, the percentage of respondents that were "less or much less likely to start a business than three months ago" decreased to 8%, the lowest reading in 2020. These notable improvements in buyer optimism might suggest that pandemic pessimism has peaked.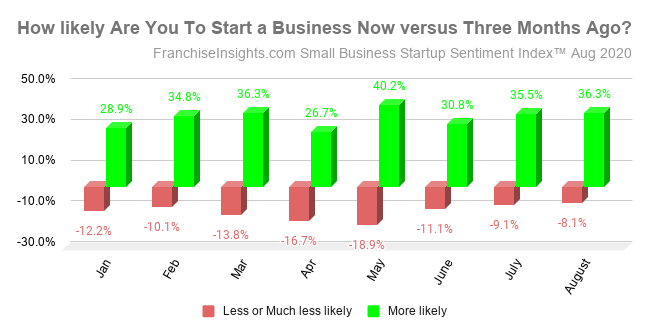 Business Sentiment on Future Business Conditions
With the exception of June, the percentage of respondents that believe business conditions will be "much better" in three months than now has steadily increased since April, the first full month following the onset of Covid-19. In fact, August's reading of 14.3% was the highest reading in all of 2020.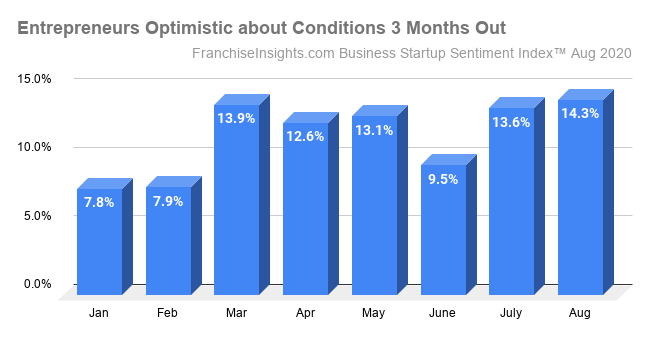 Biggest Factors Impacting Business Startup Decisions in 6 Months
In each month of 2020, over 60% of prospective business buyers cited "funding or access to credit" as a key factor in their decision to buy or start a business. "Political changes" were identified as a key factor by 15.6% of respondents in August, a significant jump from the 8.8% reading in January and perhaps unsurprising given the charged political environment leading up the presidential election. Entrepreneurs responding that the "economic climate" and "stock market" were key factors in their decision have steadily trended downward since March, when fear and uncertainty levels were at their peak.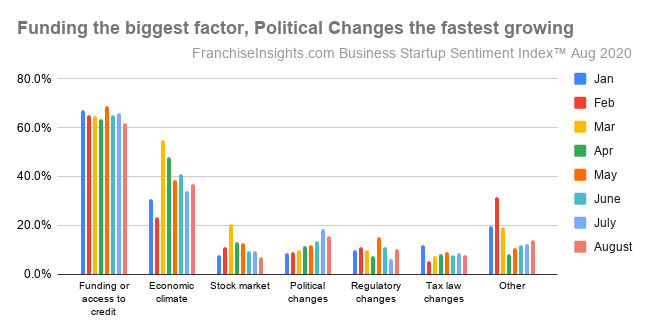 Among Business Startups, More Capital to Invest
Another sign of growing small-business optimism is that "capital I have to invest" has recovered from April readings, when prospects saw their savings impacted by the stock market. In April, 28.7% of respondents said the pandemic had reduced capital they had to invest. By August, that number had fallen to 10.3%.
The Small Business Startup Sentiment Index™ is based on a monthly survey of individuals who have recently inquired about businesses or franchises for sale on the digital assets of FranchiseVentures. 
FranchiseVentures is the leading demand– and lead-generation platform for potential franchisees to thousands of growing franchise systems in the United States and Canada. Its franchise lead generation brands include Franchise.com, Franchise Solutions, Franchise Gator, Franchise Opportunities, Franchise For Sale, SmallBusinessStartup.com and BusinessBroker.net, and together they provide the largest aggregation of prospective franchise buyers in the U.S.
Interested in more insights from our proprietary data set? Subscribe to our email newsletter below, or follow us on LinkedIn.

Published on Thursday, August 27th, 2020.