Franchise Interest in COVID-Impacted Categories Strengthens Again in June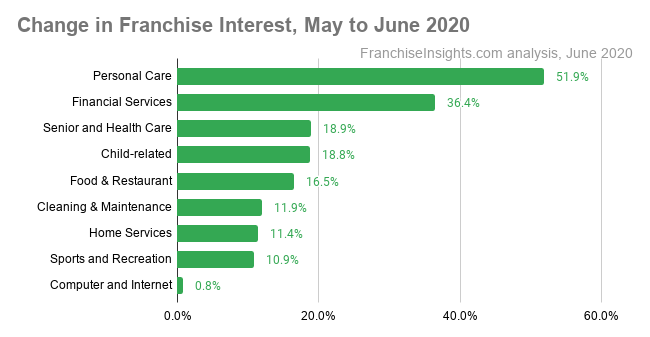 July 16, 2020 – Investment interest from potential franchise buyers strengthened for the second month in a row in June, with rising prospects in several categories that were previously hard-hit by coronavirus concerns, such as Personal Care and Food franchises. 
Many categories saw double-digital percentage gains over May in the number of prospects who contacted franchisors to explore owning a franchise, according to data from the FranchiseVentures network of lead-generation brands, which provides the largest source of prospective franchise buyers in the United States. 
In another positive sign of small business optimism, the number of concepts seeking franchisees rose as well, and most categories also saw gains in the average number of inquiries per franchise.
Franchise Categories Showing the Most Growth
Several of the strongest categories reversed course in June, showing healthy growth after several months of declines.
Personal Care franchises

led the list with a 51.9% gain in investment inquiries in June, reversing course after a 38% decline in May. WIth hair and nail salons, spas and cosmetic stores, investment interest in this category is affected by social-distancing concerns, but potential franchisees are looking months down the road for business openings.

Senior Care franchises

grew 18.9% in June after several flat months (less than 1% decline). This category has shown relative strength throughout the pandemic, as an aging population creates strong demand in all economic climates, and especially so during a health crisis and limited access to senior care facilities. 

Food and Restaurant franchises

also saw a large reversal in June, growing 16.5% after a 20% decline in May. Not surprisingly, takeout and quick-serve restaurants are recruiting more actively than full-service, sit-down establishments.
Franchise Categories Showing Continued Growth 
Other top categories continued to build on growth that started a month earlier.
Financial Services franchises

were the second-largest growth category in June, rising 36.4% in June after a 9% gain in May. This category includes a wide-range of consumer and business services, ranging from tax and investment services to insurance and small-business loans.

Child-related franchises

added an 18.8% increase in June to a 3.2% increase in May, as potential franchisees anticipate this essential service will grow in demand as states reopen.

Cleaning franchises

posted 11.9% growth in June, following a 7.4% gain in May. Cleaning has been another relatively strong franchise category this year, with B2B and home services that grow in demand during a pandemic.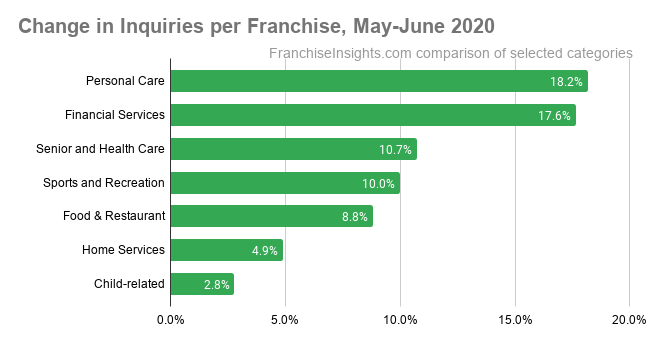 Most Categories Grow Average Inquiries per Franchise
Most categories saw an increase in the number of franchise systems actively recruiting new franchisees, and most of the growth categories also saw an increase in the number of inquiries per franchise.
Personal Care franchises

were selected by 18.2% more inquiries on average, and

Financial Services franchises

averaged 17.6% higher contact rate.

Senior and Health Care franchises

received 10.7% more inquiries, on average, and

Food and Restaurant franchises

received 8.8% more inquiries.
FranchiseVentures is the leading demand– and lead-generation platform for potential franchisees to thousands of growing franchise systems in the United States and Canada. Its franchise lead generation brands include Franchise.com, Franchise Solutions, Franchise Gator, Franchise Opportunities, Franchise For Sale, SmallBusinessStartup.com and BusinessBroker.net, and together they provide the largest aggregation of prospective franchise buyers in the U.S.
Interested in more insights from our proprietary data set? Subscribe to our email newsletter below, or follow us on LinkedIn.

Published on Thursday, July 16th, 2020.