Google Searches Confirm Uptrend in Franchise and Business Startup Interest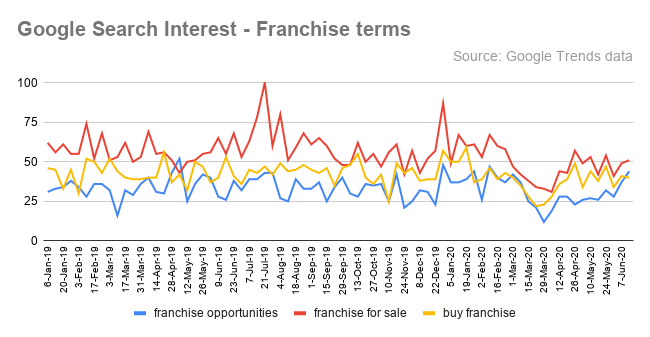 June 18, 2020 – Interest in franchise and business ownership has been rebounding in Google search trends over the past two months, rising steadily after a steep slide during the early weeks of coronavirus uncertainty and mandated state and city shutdowns. 
The search gains are confirmed by positive sentiment and increased investment inquiries from prospective franchise buyers across the  FranchiseVentures demand generation platform. In the first half of June, investment inquiries to franchisors are up 16.2% over the same period in May, continuing a trend where most franchise categories grew their volume of investment inquiries from April to May. 
Also in May, FranchiseInsights.com's Small Business Startup Sentiment Index™  reached its highest reading since February, with 61% of respondents agreeing or strongly agreeing that "now is a good time" to start a business. 
The Google search data shows growing interest in both franchise-specific and broader business-startup categories. 
Franchise ownership

searches for phrases like "

franchise opportunities

", "

franchise for sale

" and "

buy franchise

" saw a sharp drop in their share of searches in late February and March, followed by a similarly sharp rebound in April and May. Search trends are holding steady in June at levels close to the 2019 average. Franchise searches are indicative of  potential buyers who are aware of the different types of business ownership, and are exploring the franchise model to start their next business. 

Business startup searches

for phrases like

"start a business"

and "

business for sale

" represent a range of interest from entrepreneurs who are exploring multiple options in their search – in some cases, they might still be deciding whether to start a business from scratch, buy an existing operation, or open a new location for an expanding franchise. This group also saw a sharp drop and rebound in relative search interest over the past few months. It is noteworthy that these searches started 2020 at higher volumes than the prior year, and that search interest is climbing to new heights in the first weeks of June.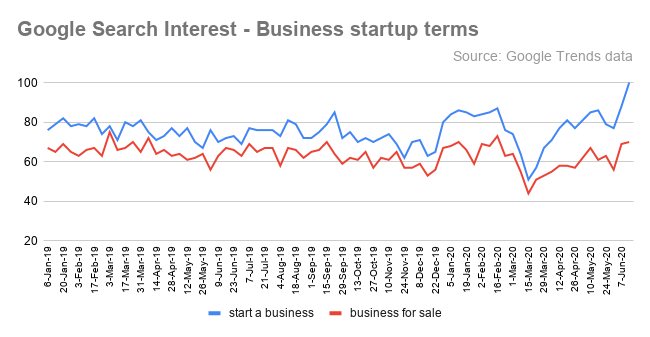 Google Trends reveals relative interest in different topics by indexing search volume in relation to all searches across its search engine. For ease of comparison, Google indexes the high point of every Trends chart as 100, with other data points shown as relative search interest to that high point. 
FranchiseVentures is the leading demand– and lead-generation platform for potential franchisees to thousands of growing franchise systems in the United States and Canada. Its franchise lead generation brands include Franchise.com, Franchise Solutions, Franchise Gator, Franchise Opportunities, Franchise For Sale, SmallBusinessStartup.com and BusinessBroker.net, and together they provide the largest aggregation of prospective franchise buyers in the U.S.
Interested in more insights from our proprietary data set? Subscribe to our email newsletter below, or follow us on LinkedIn.

Published on Thursday, June 18th, 2020.